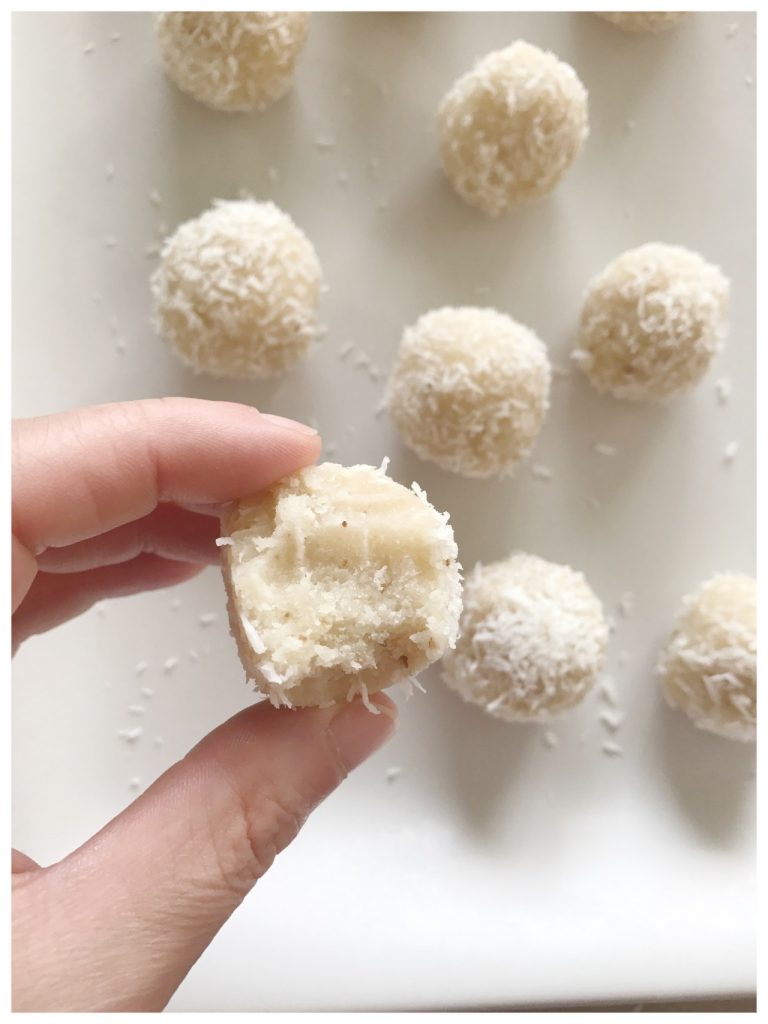 I wanted to quickly share these Vanilla Coconut Protein Bites which are now my absolute favourite 'lil snack. Likely because they're super easy to make, with minimal ingredients. They also help to balance blood sugar to help sustain your energy throughout the day.
I posted the below pick on my Instagram page and was flooded with some requests to get the recipe:
They look like little snow globes, don't they? I posted the caption: STRESS + SNACKS and here is what I had to say about it:
I used to coin myself as the snack queen – I was always creating bites, bars, and balls for my mid-day snack.

One of the things that is important when you're healing from adrenal fatigue or if you have any stress in your life, is to fuel your body when you are legitimately hungry (or hangry as I like to refer to it as). Why?
Putting your body in a state of hunger is stressful for the body and it will deplete your body of even more of those much needed stress hormones.
That's where healthy snacking comes in. These Vanilla Coconut Bites are low in sugar, and the perfect balance of fats and protein helping to manage your blood sugar.
Vanilla Coconut Protein Balls
1/2 cup ground almonds
1/4 cup coconut butter (easy to make on own. Recipe is on my page)
1/4 cup Unsweetened shredded coconut
1-2 tbsp. Honey (depends on taste so try 1 first then add)
1 tsp. ground flax or chia
1/2 tsp. vanilla
Mix all together. Roll in shredded coconut if you wish! Store in fridge or freezer.