I've just planted my first garden that I was able to get through a local community plot. Every single item in there is GREEN (oh, except for the tomatoes and orange peppers),100% organic, and non-GMO!! It's just such an amazing thing to be able to grow your own food and have complete control over what you bring into your home and fridge.
Now, growing your own vegetables isn't possible for everyone. But, that doesn't mean you can't play a big part in ensuring that you're bringing the best quality ingredients into your home.
Take organic foods as an example. Buying organic foods, as much as you can afford, is the best way to avoid the risk of pesticides and genetically modified ingredients.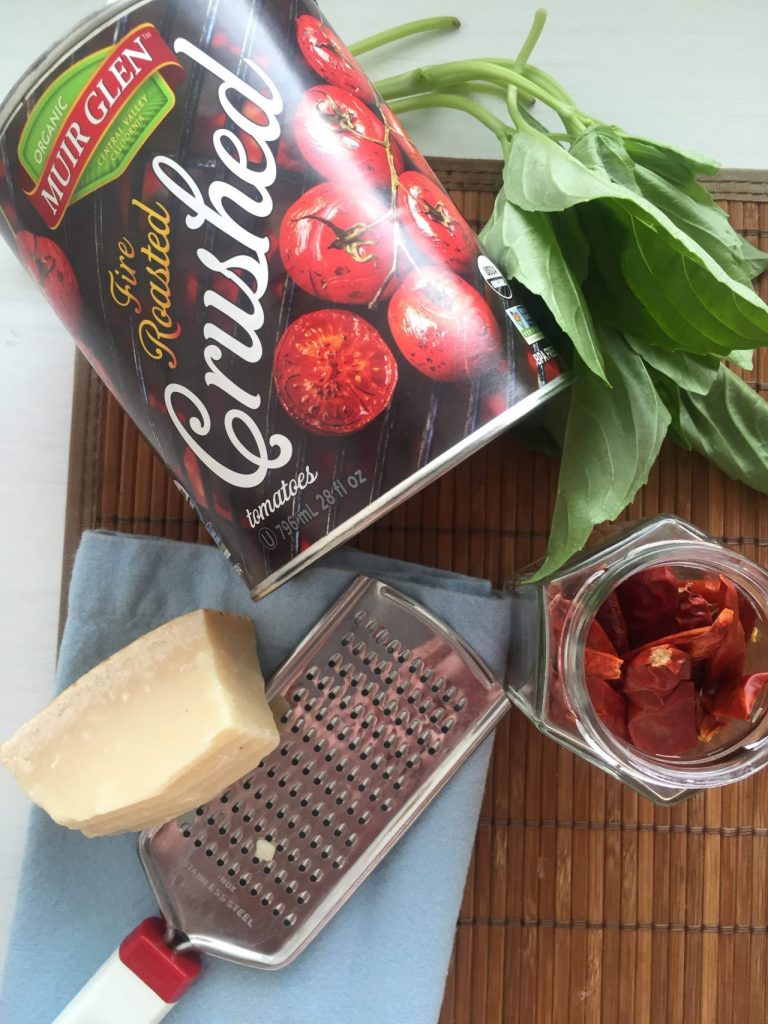 When Muir Glen Canada reached out to me to introduce their line up of fire-roasted tomatoes that are hitting the shelves in Canada, I had to jump at the chance (for a few reasons, actually).
Choosing organic foods is the smartest decision you can make for your health.
Muir Glen Canada is making organic canned tomatoes affordable for everyone. So, you can get a can of these amazing tomatoes at Walmart!
I love fire roasted tomatoes and so does my guy. They bring so much depth to the most basic recipes like the one I am sharing with you today.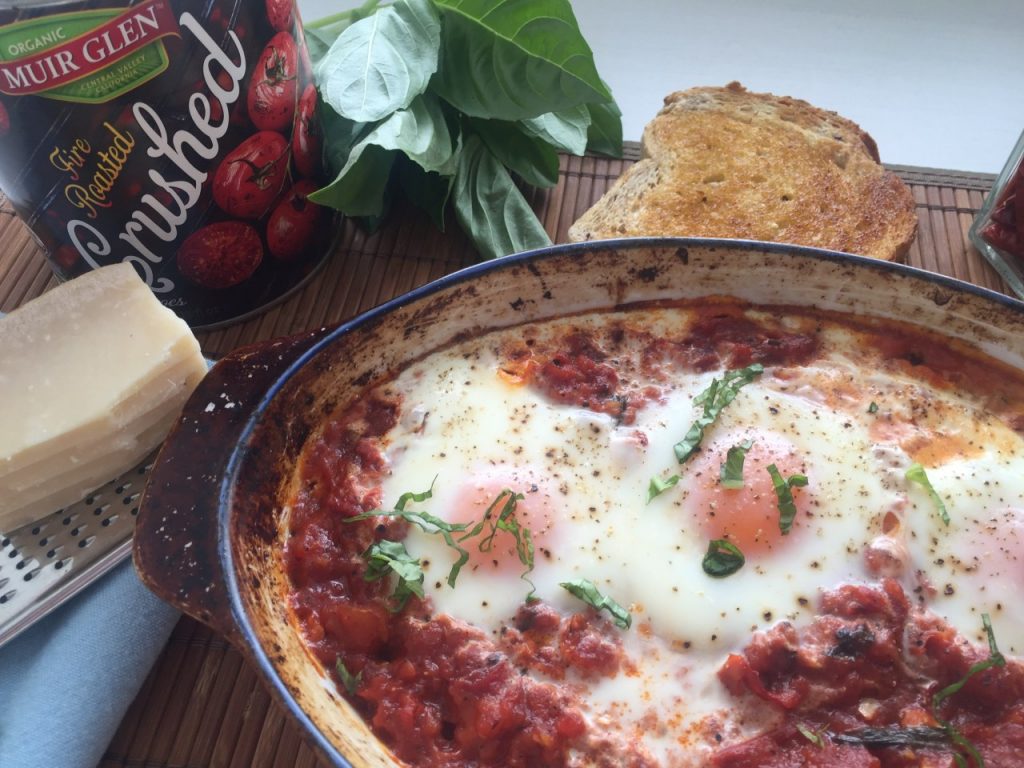 This recipe is the epitome of Spring comfort food – it's light and bright with flavour! It also is great for breakfast, lunch or dinner and there are lots of substitutions for vegan and paleo options.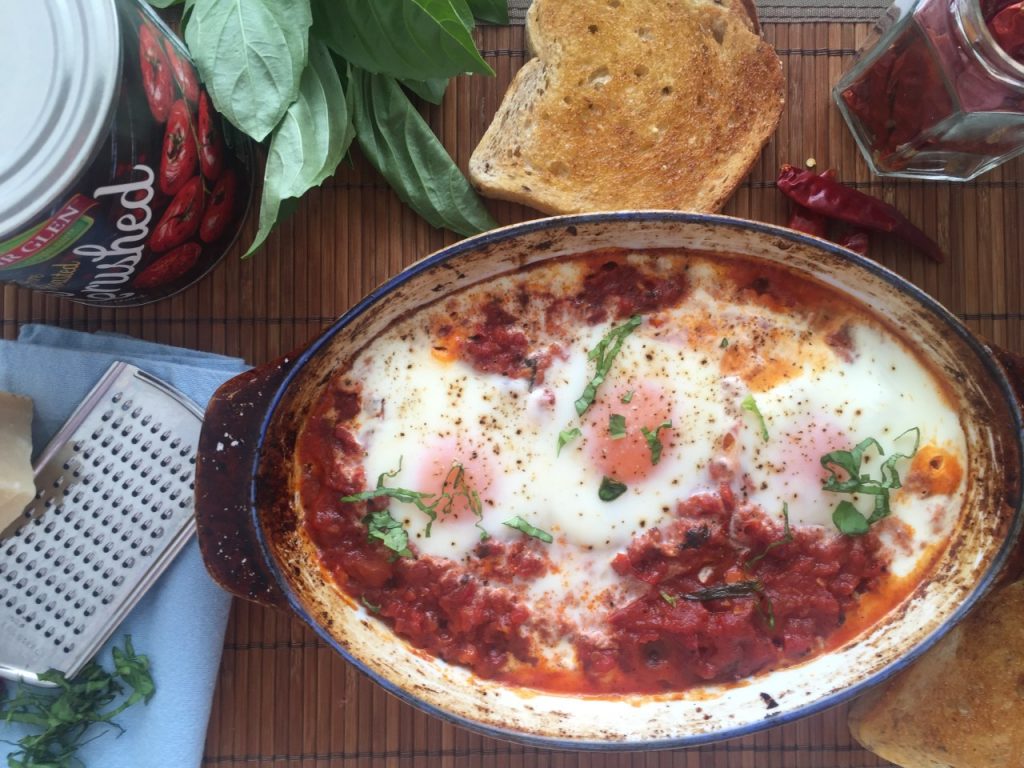 Tomato + Basil Baked Eggs
Ingredients
1 can of Glen Muir Organic Diced Fire Roasted Tomatoes
2-4 Organic, Free Range Eggs
1 large clove of garlic, minced
1/2 tsp of smoked paprika
1/2 tsp of chilli flakes
1/4 cup of pancetta, diced (optional/omit for vegans)
1/2 tsp of grey sea salt
Grated Parmesan cheese (optional/omit for vegan)
1/4 cup of chopped basil
*For non-paleo, make some toast with an amazing artisan bread so you can dip into your yokes. Mmmmm….
Directions
1) Preheat oven to 400 degrees F and lightly grease two oven-safe baking dishes.
3) To a saucepan over medium-low heat, add 1 Tbsp of oil. Then add garlic, and cook for 2-3 minutes or until translucent. Turn down heat if getting too brown.
3) Add paprika and red pepper flake and stir. Then add tomatoes and another 1/2 tsp sea salt and stir. Simmer for 10-12 minutes, reducing heat to minimum simmer.
4) Taste sauce and adjust seasonings if needed such as extra salt and/or spice.
5) Divide the sauce evenly between two shallow baking dishes or one large and top with 2-4 eggs depending on your hunger!
6) Pop into the oven and cook for 8-10 minutes or until desired doneness. It is preferred that the whites should be cooked through but the yolk still soft for dipping your toast (if that's your thing!)
7) Top with fresh herbs (and cheese if not dairy-free) and serve with toast.
There will be leftover sauce which you could add to pasta or the make the following day/night.