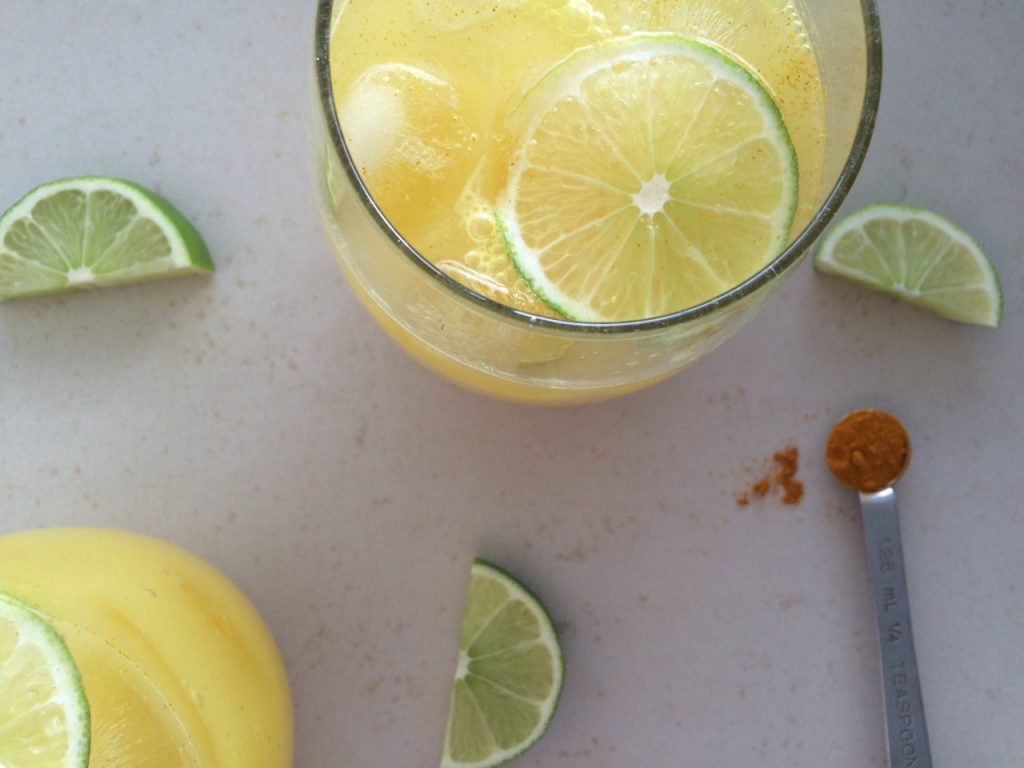 Healthy cocktails are such a thing, right? Well, this Turmeric Gin & Ginger Cocktail is exactly that and it will make a winning statement at your next holiday party. But, if you're not into the Gin (or alcohol for that matter) just simply remove it.
Turmeric is a staple in my home. I make these Turmeric Tea Lattes like they're going out of style. It is a major anti-inflammatory agent and it is rich in antioxidants which is essential for building and maintaining a healthy immune system.  It's is just the easiest herb to incorporate into your life! You may also be surprised to know that turmeric is a natural pain reliever and it is as effective as many over-the-counter pain relievers.  How's that for amazing?
You have to know how I feel about ginger. It also has the ability to fight inflammation which is why many nutritional practitioners promote ginger when you're sick or feeling under the weather. It's the perfect compliment to turmeric making them the ideal pairing for this amazing beverage.
I picked gin for the cocktail because it actually has some health properties to it that no other alcohol on the planet can actually brag about. Here's the deal with gin:
1. Gin contains natural ingredients, most notably juniper but many gins can include coriander, sage, cassia, nutmeg, rosemary, and angelica root.
2. Juniper berries are jam-packed with health benefits like the ability to combat infection, renal insufficiency, bad coughs and lung congestion, and can jump start a late period.
3. It's a natural remedy for arthritis.
4. It's beneficial for digestion as the bitter herbs contained in gin can cause increases in digestive enzymes and stomach acid secretions, which helps break down food quickly and improves digestion.
5. It's the lowest caloric type of alcohol at about 97 calories per 1.5 ounces.
This is a bubbly cocktail so let me tell you about this amazing sparkling beverage system by Bonne-O (and, keep reading because there is a BIG giveaway at the end!).
Sparkling Turmeric Gin & Ginger Cocktail
*There are two options to make this recipe as you may not be able to access fresh, ginger juice.
Base Ingredients (makes two drinks)
4 ounces gin
½ teaspoon turmeric
Juice of ½ a lime
Lime wheels for garnish
Option #1:
2 ounces of ginger juice *best way for a more intense flavour.
Option #2:
Grate a 1-inch piece of ginger into 750 millilitres of warm, purified water and steep for a minimum 20 mins to 1 hour. Once the water has cooled, process through Bonne-O Sparkling Beverage system. You now have ginger water!
Instructions
Option #1: Add gin, turmeric, ginger and lime juice to a cocktail shaker with ice. Shake vigorously for about 30 seconds. Pour into glass and top with Bonne-O unflavoured sparkling water.
Garnish with a lime wheel and serve!
Option #2: Add gin, turmeric, and lime juice to a cocktail shaker with ice. Shake vigorously for 30 seconds. Pour into glass and top with Bonne-O ginger flavoured sparkling water.
Garnich with a lime wheel and serve!
I've had other sparkling systems before. They're hiding in a closet somewhere but what I love about this machine is that it is an affordable way to sparkling up you water.  It uses CO2 to make the effervescent water we're looking for, but it's not going to cost you $29.99 for a canister! A pack of 10 carbonators will cost you less that $6 and each carbonator makes a litre of water.
How does it work you wonder?
The Bonne O tank-free carbonators (which come in a food-grade disk) each fully sparkle one full bottle. Only pure CO2 enters your beverage not the carbonator itself. The carbonators are not for consumption, only CO2 production. They are made of food grade materials that react with water to create CO2 gas. The active ingredients include citric acid and sodium bicarbonate (baking soda). That's it!
And, if you're someone who has a hard time drinking water, the Bonne-O Sparkling Beverage System is known for bubbling up naturally flavoured waters, whether that be your own creations or flavourings that you purchase yourself.