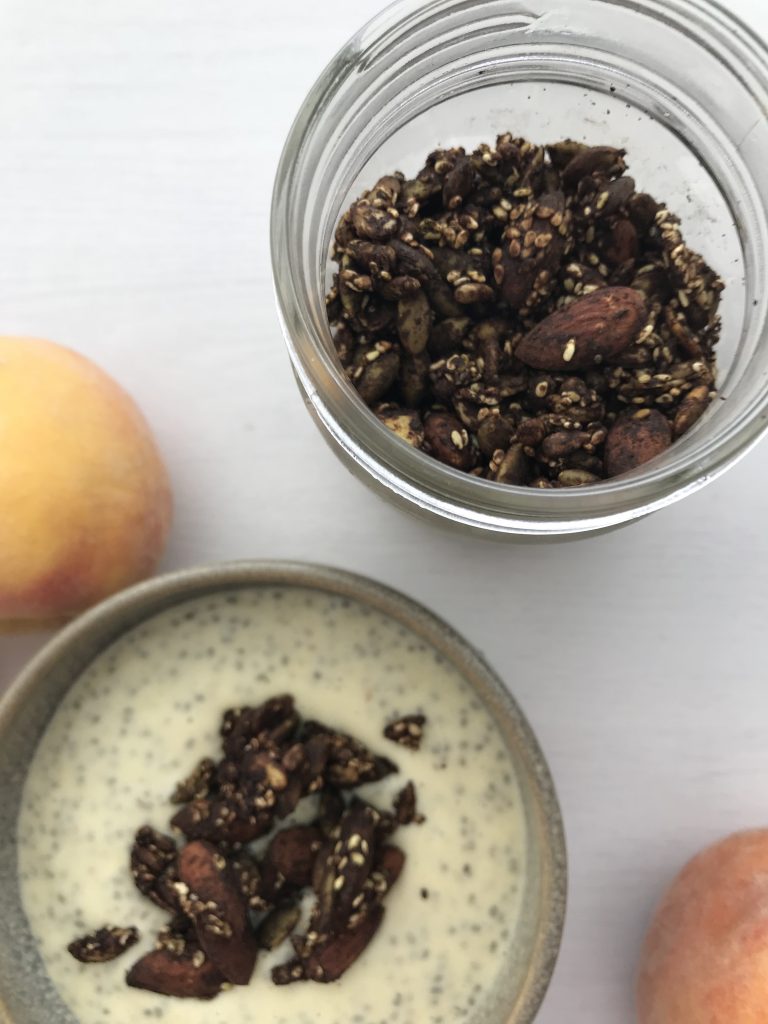 I love me some granola but the classic "oaty" kind is a disaster for my digestion (and for most people). And they're also so full of sugar. I don't quite get that when breakfast is supposed to be our most important meal, why dowse it with sugar?  But I digress.
When it comes to weight loss or maintaining healthy weight, there are three key ingredients to incorporate into any meal: protein, fat, and fibre. These three ingredients are what is going to keep us satiated throughout the day so our blood-sugar doesn't take a nose dive. When our blood sugar nose dives, that's where we find ourselves reaching for those chips ahoy cookies.
When our blood sugar is balanced, we feel energetic, our body starts to burn fat, and we're less inclined to want all those sweet treats.
I also made this recipe to help satisfy that chocolate craving that we women get during our menstrual phase. Raw cacao is high in the mineral magnesium which is excellent to take to help relieve cramps.
I also personally eat specific seeds to help to support my cycle (referred to as seed cycling). This is a terrific method to naturally support your cycle.
Days 1-13 (the first day of your period): eat 1 tbsp daily of either flax or pumpkin seeds to boost estrogen.
Flax (ideally freshly ground) – Contain lignans, which help to bind excess estrogen so that it can be eliminated from the body.
Pumpkin – High in zinc, which helps to promote progesterone which is essential in a women's cycle.
Days 14-28: eat 1 tbsp daily of either sesame or sunflower seeds to boost progesterone.
Sesame: Contain lignans to block excess estrogen.
Sunflower: High in the mineral selenium, which is good for hormone balancing.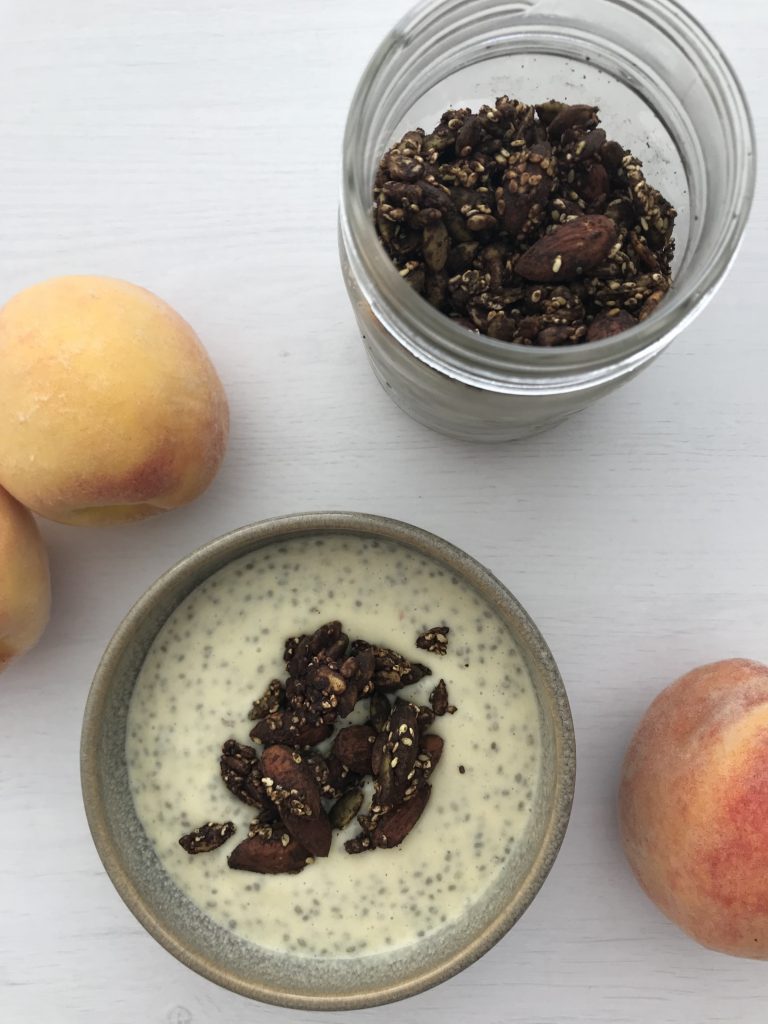 Paleo Chocolate Granola
Ingredients
3 cups raw seeds and nuts
1/3 cup cacao or unsweetened cocoa powder
1/3 cup maple syrup or honey
2 tablespoons coconut oil
1 teaspoon pure vanilla extract
2 tablespoons chia seeds
2 tablespoon greens powder (optional)
1/2 teaspoon cinnamon
1/4 teaspoon sea salt
Directions
Preheat your oven to 325F and line two large baking sheets with parchment paper. Set aside.
In a large bowl, combine nuts/seeds, chia seeds, greens powder, sea salt, and cinnamon. Mix until combined. Set aside.
In a small saucepan on medium heat, and combine cacao/cocoa powder, honey/maple syrup, vanilla and coconut oil. Whisk until the oil is melted and the mixture has a smooth consistency without lumps.
Pour over the nut mixture in the large bowl. Toss several times with a spoon until all of the nuts are evenly coated in the chocolate mixture.
Divide the granola evenly between the two lined baking sheets and spread it out, flattening the mixture onto the baking sheets.
Bake for 10 minutes. Stir. Bake another 10 minutes or until the nuts are aromatic. The granola may still seem soft but it will crisp up until cooled.
Cool on baking sheet complete before transferring the granola to an air-tight container. I store in the refrigerator for up to two weeks.
Now over to you: will you give seed cycling a try optimize your cycle?