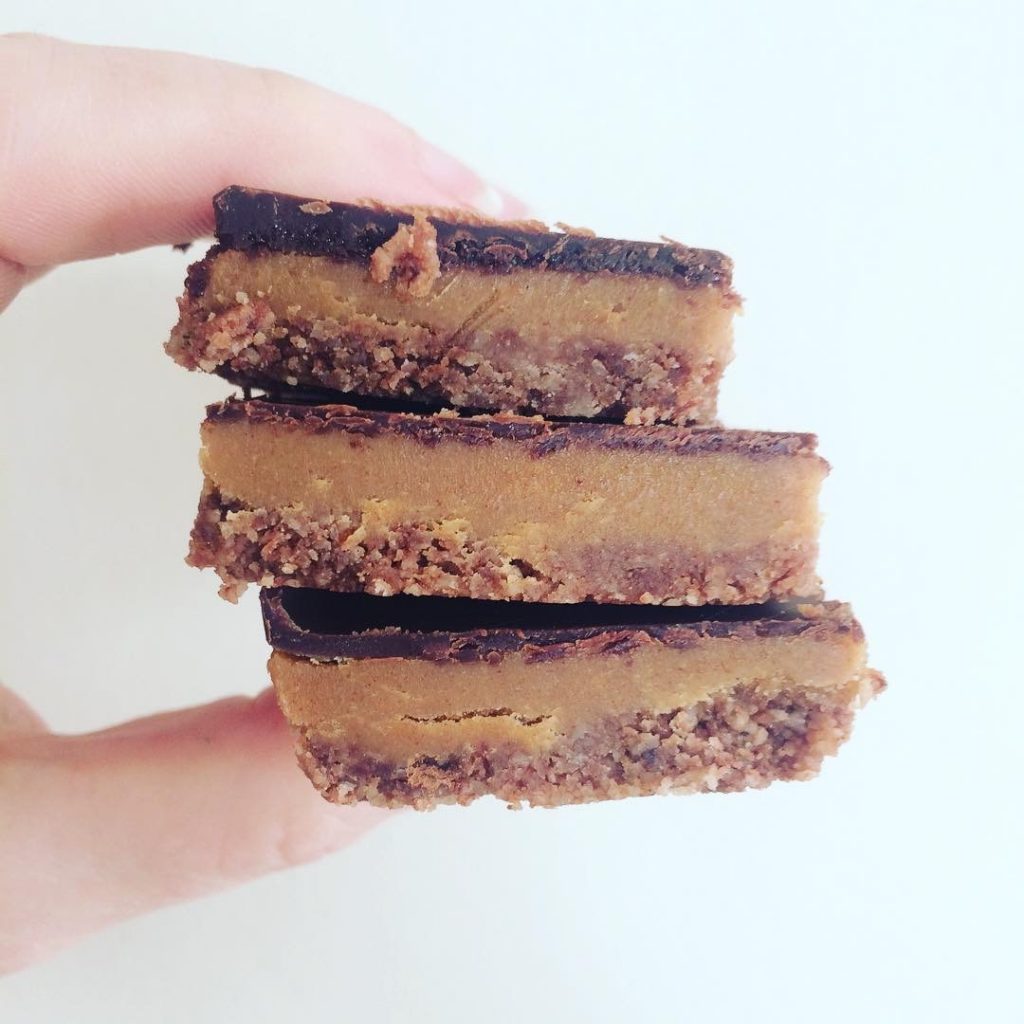 I know. It's taken me way too long to post the Salted Chocolate Peanut Butter Bars.  I posted this shot week's ago and I've only just had the time today to get it out to you all.
I'm actually vacationing right now in Palm Springs, California. We're here for about five days and of course, it's 40+ degrees. We went out for a run this morning and had to stop because it was way too hot.  It didn't help that we got up a lot later than I wanted to. My body has been naturally waking at 5am, and then 6:30am as the days go by. This morning was 6:30am and I thought, what am I going to do until James wakes up. But then, I happened to fall back asleep until 8:15am!! What!!! I hate losing precious day time.
So, by the time we shuffled out of the building, it was 35+ degrees.  But we ran and made our way to one of the gyms and did some weights.  It's so important to integrate some form of exercise on holiday.  Sure, it is a time to enjoy life's pleasures. But, as soon as we get off of some form of routine, we lose our commitment to our health goals.
That's why James and I make a point to get in early morning exercises.  This could be a run, a hike, the gym, or just a good walk.  I do eat relatively healthy on holiday simply because that's when I feel my best. It's also the fact that I need to rejuvenate. But, I'm not exaggerating when I say that we do still indulge. For us, it's a cocktail by the pool and some amazing red wine for dinner.
Do you see the perspective of balance that I am giving you? There's a lot of this (exercise and healthy food) and a little bit of that (those indulgences).
Okay, so it doesn't help that I have pictures of these epic Salted Chocolate Peanut Butter Bars embedded in this post. Hahaha…sorry, about that. But, to be real here, these bars are very balanced. Are they 100% healthy?  Not exactly. Maple syrup is still sugar but I actually made these bars to be as low in sugar as possible without compromising the taste.
For those with peanut allergies, you could totally use almond butter.
Salted Chocolate Peanut Butter Bars (Vegan)
ingredients
For the chocolate crust:
3/4 cup ground almond meal
2 tablespoons raw cacao or cocoa powder
1.5 tablespoons pure maple syrup
2 tablespoon melted coconut oil
Pinch of sea salt
Peanut Butter Filling:
1/2 cup creamy or crunchy natural peanut butter ideally without salt (*I personally love crunchy for the texture)
2 tablespoons pure maple syrup
2 tablespoon melted coconut oil
Pinch of sea salt
Chocolate Topping:
1/4 cup raw cacao or cocoa powder
1/4 cup melted coconut oil
2 tablespoons pure maple syrup
1 tablespoon of peanut butter (this helps to incorporate the maple syrup so it doesn't sink but you can omit ensuring that you blend it well)
Directions:
Line a loaf pan with parchment paper and set it aside.
In a medium bowl, stir together all of the chocolate crust ingredients until a moist dough is formed. Press the dough evenly into the bottom of the lined loaf pan, and place it in the freezer to set (about 10 minutes).
For the filling, in a bowl, stir together the peanut butter, maple syrup, coconut oil and salt.
Remove the crust from the freezer and pour the peanut butter filling over the top, using a spatula to spread it out evenly. Return the pan to the freezer to set.
For the top layer, combine the cacao/cocoa powder, melted coconut oil, and maple syrup, whisking well to break up any clumps. Once the mixture has become a smooth chocolate sauce, pour it over the peanut butter layer, and return the pan to the freezer to set until firm. This should take about one hour. About 10 minutes into the freezing process, I add a sprinkle of coarse sea salt.
Once ready, grab the edges of parchment paper to easily lift the solid bar from the pan. Use a sharp knife to slice the bars to your preference.  I dip the knife into hot water to help cut them. Otherwise, they may crack (although, I kinda like that look!)
These can be stored for about two weeks in the fridge. They can also be frozen.