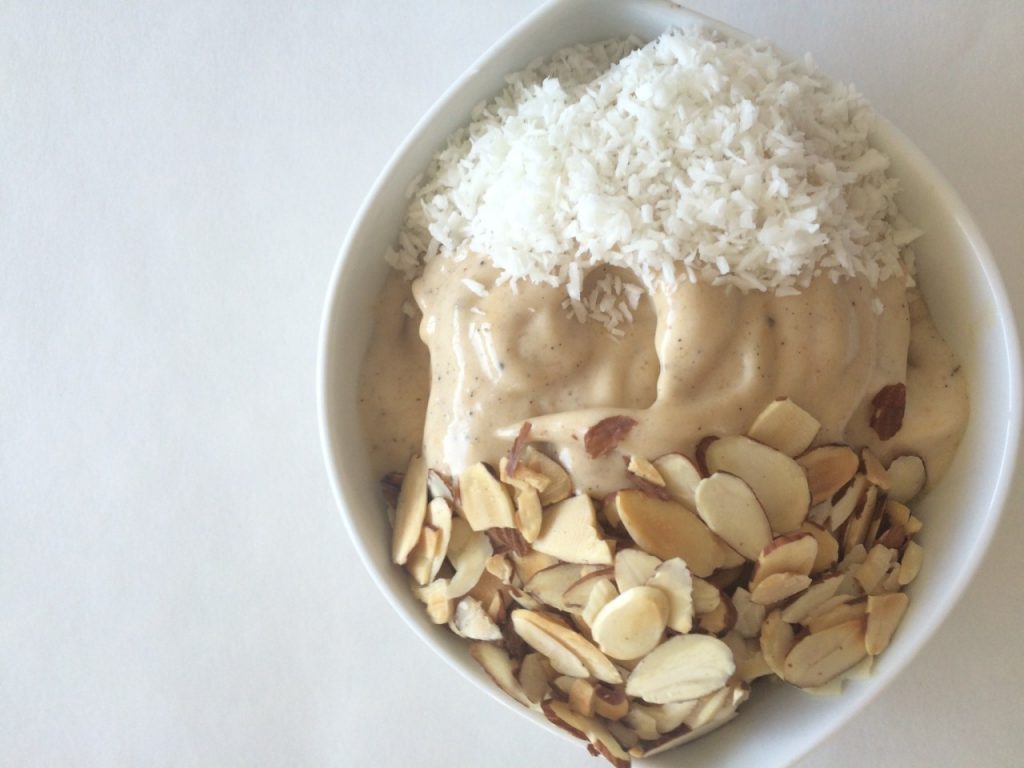 So, have you tried So Delicious's Cashew Salted Caramel non-dairy ice cream yet? It's is amazing. It's sweet, salty and nutty and without dairy!
I decided that this may make a swoon-worthy Cashew + Salted Caramel Smoothie Bowl but made with less sugar.
The secret to this recipe is Maca, a powder made from a peruvian root. It is awesome if you are trying o naturally boost your energy levels and help alleviate anxiety and stress in the body.  It is a staple in my smoothies.
Here's the thing: this smoothie bowl takes as much time as a regular 'ol smoothie except you eat this baby with a spoon!
Afterwards, top it with a low-sugar granola, nuts, coconut flakes, hemp seeds and so on.  ENJOY!
ingredients
1 large banana, sliced and frozen
2 tbsp Genuine Health Vegan Fermented Protein Powder in vanilla(optional)
2 T of cashew nut butter or any nut/seed butter of choice (cashew is preferred though!)
1/4 cup unsweetened almond
1 tbsp maca powder
1 soaked Medjool date or 3-4 drops of stevia
1/2 tsp sea salt
directions
Place all ingredients in a blender and blend until everything is incorporate. If you like it more as a smoothie (i.e. drinkable), just add more milk!