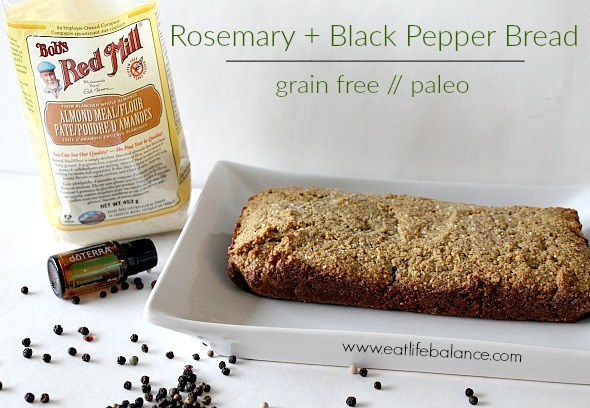 Here's something that you probably didn't know about me.  I have a traditional day job. I am an HR manager here in Vancouver, Canada.  Yup.  So, on my weekends and some of my weeknights, I spend all of my free time finding ways to connect with you all. I LOVE IT.
So, in my day job, they often have sandwich day. Everybody loves it, except me.  Bread just weighs me down, makes me sleepy, and get's me all bloated.  It's not sexy.  I can't remember the last time that I've actually eaten a traditional piece of bread. And, hey, if bread is your thing, good on 'ya!
My hubby LOVES this Rosemary + Black Pepper Bread. It's super flavourful and he loves the rosemary, black pepper and sea salt combination.
But, the kicker is that this bread has absolutely no wheat, no gluten, or no grains in the bread.  Instead, it's made with almond flour.  It is super easy to digest and packed with heart healthy protein, making it easy fuel.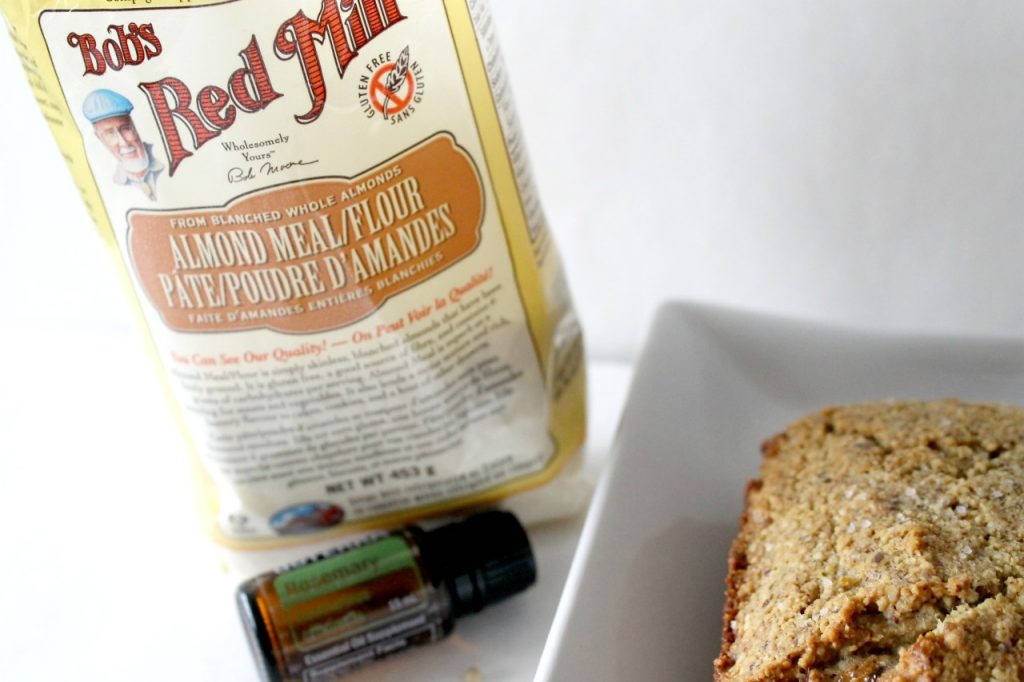 I should point out that this savoury bread is not going to be like a traditional sandwich bread.  It is denser and is ideal as I side dish with a big salad or layered with your typical sandwich toppings.  I'll warm mine with organic butter or coconut oil on top or even toast it lightly with poached eggs on the side. Ahhh, and this would be great in a soup.
I promise you.  You will love this bread. 
Ingredients
2 cups of almond meal/flour *see note
1/4 cup of ground flax
3 tablespoons of olive oil
1 tsp of baking soda
1 tsp of sea salt
2 tsp of black pepper
10 drops of doTERRA Rosemary essential oil OR 1 tablespoon of freshly chopped rosemary
3 room temperature eggs, whisked
*note: if you almond meal is a little dry, you may find that it sucks up the egg/olive mixture and it may come out dry. When this has happened, I've added an extra egg and about 1/3 cup of almond milk to moisten it.
Preheat the oven to 350 degrees.
Directions
1. Mix all dry ingredients together
2. Whisk eggs and add to 2 tablespoons of oil and rosemary. Mix all together.
3. Pour into a parchment paper lined load pan.
4. Drizzle 1 tablespoon of olive oil on top and sprinkle a bit of coarse sea salt on top.
5. Bake in oven for 20-22 minutes until edges are browned and bread springs back slightly.
6. Let cool for 10 minutes before serving.
Will keep in the fridge for up to a week. Or, slice, and freeze and pull out when ready to eat.