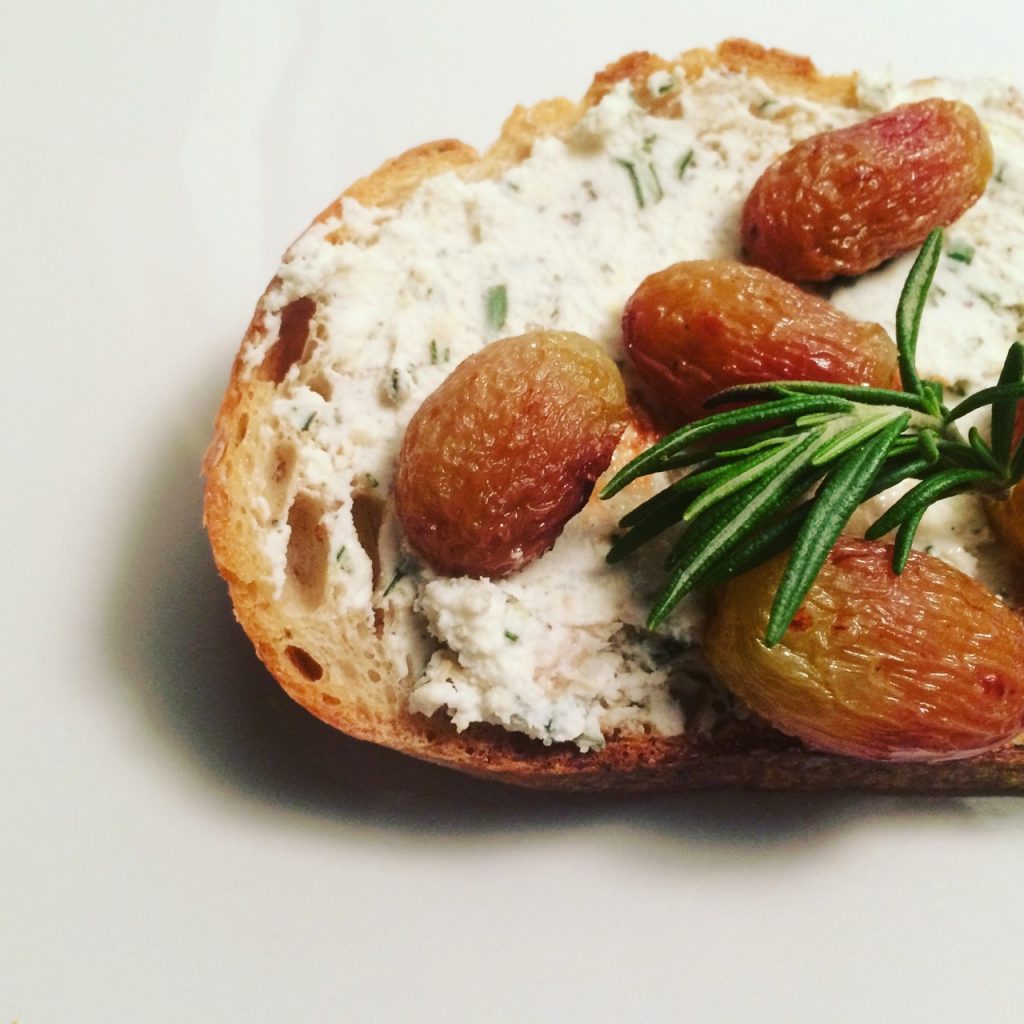 This is just the easiest appetizer recipe to have waiting for your guests. It's also a crowd pleaser since it looks like you just spent your afternoon fancying this recipe up (but you didn't)!
On the very odd chance I eat cheese, I always choose a raw cheese OR goat cheese. For many who have a hard time digesting cheese, goat cheese contains enzymes that actually make it tolerable to eat. So, on those indulgent occasions, make this brilliant recipe.
For those that are on the grain free train, make my Rosemary + Black Pepper Bread instead.
ingredients:
2 cups organic seedless red grapes
4 tsp avocado oil (or any neutral oil), divided
Salt and pepper to taste
1 small organic (or gluten-free) whole grain baguette OR my grain free Rosemary + Black Pepper Bread
3 oz soft goat cheese (or for non-goat cheese lovers, you could use Boursin herb and garlic)
2 tsp finely chopped rosemary or fresh thyme
1 tsp lemon zest
directions:
1) Preheat oven to 425 F (220 C).
2) Toss grapes with 2 tsp (10 mL) oil, and salt, and black pepper to taste. Arrange grapes in a single layer on baking sheet. Roast until grapes have softened and darkened, about 25 minutes.
3) Reduce oven temperature to 350 F (180 C). Diagonally cut baguette into 1/2 in (1.25 cm) thick slices, place on baking tray, and brush tops with remaining oil. Bake for 8 minutes, or until toasted.
4) In small bowl, stir together goat cheese, rosemary or thyme, and lemon zest.
5) To serve, spread goat cheese mixture on bread slices and top with roasted grapes.
This recipe was adapted from alive.com.