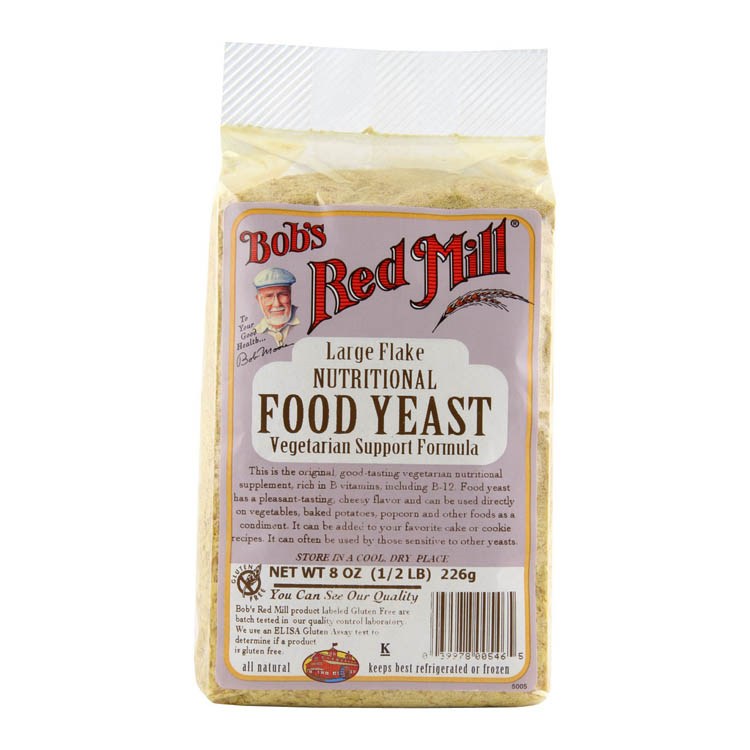 Love cheese but can't have the dairy?  Then you are going to love adding nutritional yeast into your recipes. There are many health benefits to this inactive yeast beyond the cheesy taste you've been missing!  I started using it many years ago when I went 100% plant-based/vegan. It actually is referred to as "hippie dust" which is probably why many avoid it but I'm here to tell you, it is something you are need to start incorporating into your recipes.
Don't worry about adding too much yeast into your diet.  Nutritional yeast is actually a deactivated form of yeast!
Keep reading as I have included the recipe of my Popcorn Cauliflower at the bottom of the post.
Here are the 5 reasons why we love Nutritional Yeast:
Pure Protein
Nutritional yeast provides a great source of protein.  In fact, 2 tablespoons of nutritional yeast contains 9 grams of protein. That's more than in 1 cup of whole milk (8g), a large egg (6g), or one oz. of beef (7g). Wowsa!
Energy Boost
If you are like me and you have removed most or all animal products from your diet, adding just a sprinkle of this "hippie dust" to your diet will provide you with pure and essential B12 vitamins.  Can you believe that just one tablespoon provides you with your daily recommended serving of B12?  It is a critical nutrient for the body aides in the production of red blood cells.
Gluten Free
With so many people focusing on reducing or omitting gluten from their diets, nutritional yeast is the perfect anti-inflammatory ingredient.
Fibre
I consistently talk about the benefits of fibre in our diets particularly if you suffer from digestive woes like I have.  With about 3 grams of fibre per serving, nutritional yeast helps our systems regulate blood sugar giving us a more sustainable source of energy throughout our day. If you are concerned about blood sugar and diabetes, make nutritional yeast your friend.
Variety
I add nutritional yeast to almost anything I can so I thought I would share my top uses:
Popcorn: my favourite snack and if you've been missing the cheesy microwave popcorn, this will soon become your favourite snack idea too.  Just pop some organic popcorn, drizzle with coconut oil, sprinkle with sea salt and add as much or as little nutritional yeast for cheesiness.
Cheese Sauce: there's nothing better on a cold winter day than a big bowl of mac and cheese.  Here is the perfect recipe starring nutritional yeast.
Kale Chips: whoever invented this recipe idea was genius.  When you take one of the most powerful greens on the  planet and turn it into a cheesy, crisp snack that's healthy, well…you're just awesome.  Try my perfect Chipotle Kale Chips.
Dairy Free Dressings:  if you've been missing that creaminess of ranch dressing, this recipe of Dairy Free Ranch Dressing is swoon worthy!
General Flavour:  I sprinkle and add nutritional yeast to all my vegetables and even mashed potatoes, gravy and anything that you need help thickening.
Pesto:  don't you just love pesto? And, of course, what makes it so creamy is the parmesan cheese.  But, I love subbing my pesto with nutritional yeast and it actually makes an even better pesto!
Today I thought I would share one of my favourite snacks, side dishes and even salad topper!  It is what I call "Popcorn Cauliflower".  Remember that buttery popcorn in the movie theatres that you use to love (and maybe still enjoy)?  These crispy cauliflower snacks remind me of just that.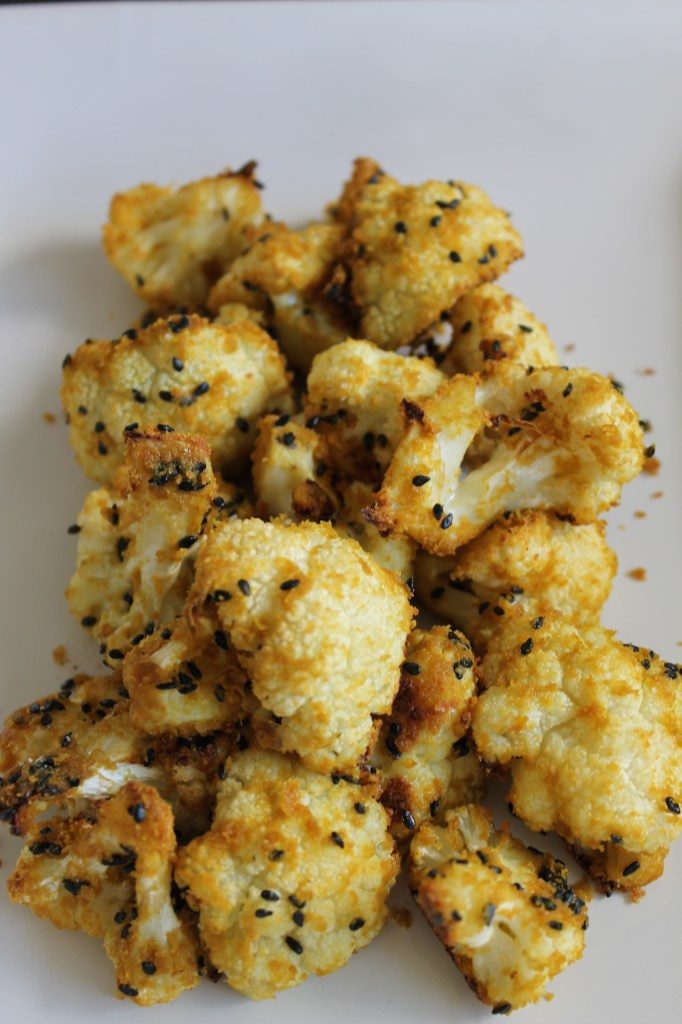 Ingredients
1 head cauliflower, chopped into florets
2 T olive oil
1t black sesame seeds (optional)
¼c nutritional yeast
½ t sea salt
Instructions
Preheat your oven to 375 degrees.
Take the cauliflower and toss in olive oil until coated.
Then mix all the remaining ingredients and toss until all is coated.
Spread on a cooking sheet with parchment paper or foil and cook for about 20-25 minutes until cauliflower is golden brown.
Have I tempted your interest in nutritional yeast?  If so, here are my two favourite brands: Bob's Red Mill and NOW.
Now it's your turn.  Do you use nutritional yeast in your recipes?  Tell us what your favourite recipes are below!