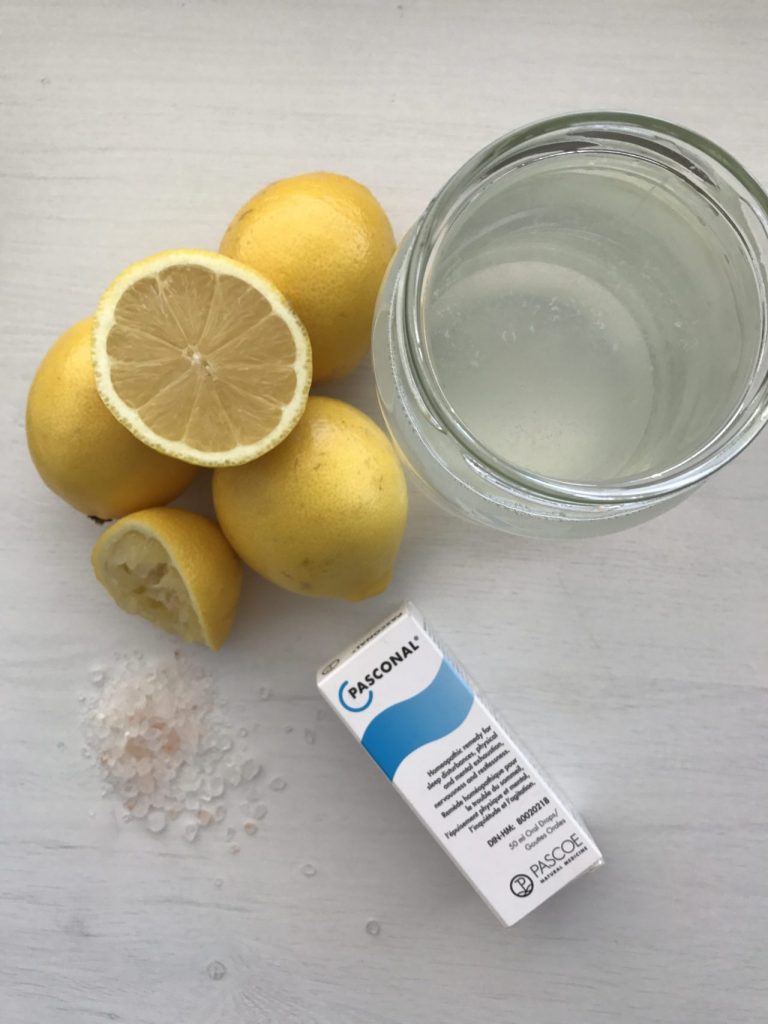 I just returned from my parents home in Ontario just this past week. We did a lot of resting and relaxing after a pretty chaotic week at work (and life for that matter). We've spent some time with my brothers and their family in a cottage (total "summer in Ontario life"). We then went home to my parents house where I spent a boat load of time in my mom's garden and my dad's cabin. Because the town where my parents live is a couple of hours from most major cities, a lot of time is spent outdoors. Fine by me – there is nothing better than Vitamin N!  We were outdoors outside most days and I couldn't believe it when I came across a huge field of wild blueberries. It was a dream!
During my time away, I spent a lot of time reflecting on the craziness of my life before I left for vacation. Vacations are a perfect time for reflection. And, I quickly came to the conclusion that the craziness is likely not going to get any better. My day job is busy (and you know how it is when you come back from vacation), and I'm about to complete my last two case studies where I then need to study for my final exam. I even had a dream on my holiday about taking the exam and how unprepared I was for it because I was too busy in other places in my life to study. In any event, I'm not sure how I am going to do it, but I will!
That said, with a day job and nutrition courses that stretch my thinking, at the end of the day, I'm often mentally and physically exhausted. When this happens, I don't necessarily want to socialize with friends, and quite frankly, I fall into a restless sleep worrying about my next day. This reached some epic levels when I had to deal with two employee issues that I were complicated and I worried about the outcomes. During times like these, I have to adjust routines and seek nutritional assistance to keep me in balance.
About two months ago, I started to incorporate a himalayan salt brine to my morning routine to help support and nourish my adrenal glands. High quality salt like Himalayan salt or Celtic (Grey) sea salt will nourish the adrenals due to it's mineral content. Cortisol (our stress hormone, which is produced from our adrenal glands) is involved in the release of sodium from our skin to aid during stressful times. So the more cortisol we release, the more sodium we lose. I have struggled with low cortisol issues as a result of burnout.
And please don't be worried about the salt content. Unfortunately, the introduction of iodized salt, which is nutritionally void of any minerals, gave salt a bad name. This salt brine is completely nourishing and beneficial to the body.
And, over the past month, twice per day, I have been adding drops PASCONAL®, a homeopathic remedy for sleep disturbances, mental exhaustion, nervousness, and restlessness.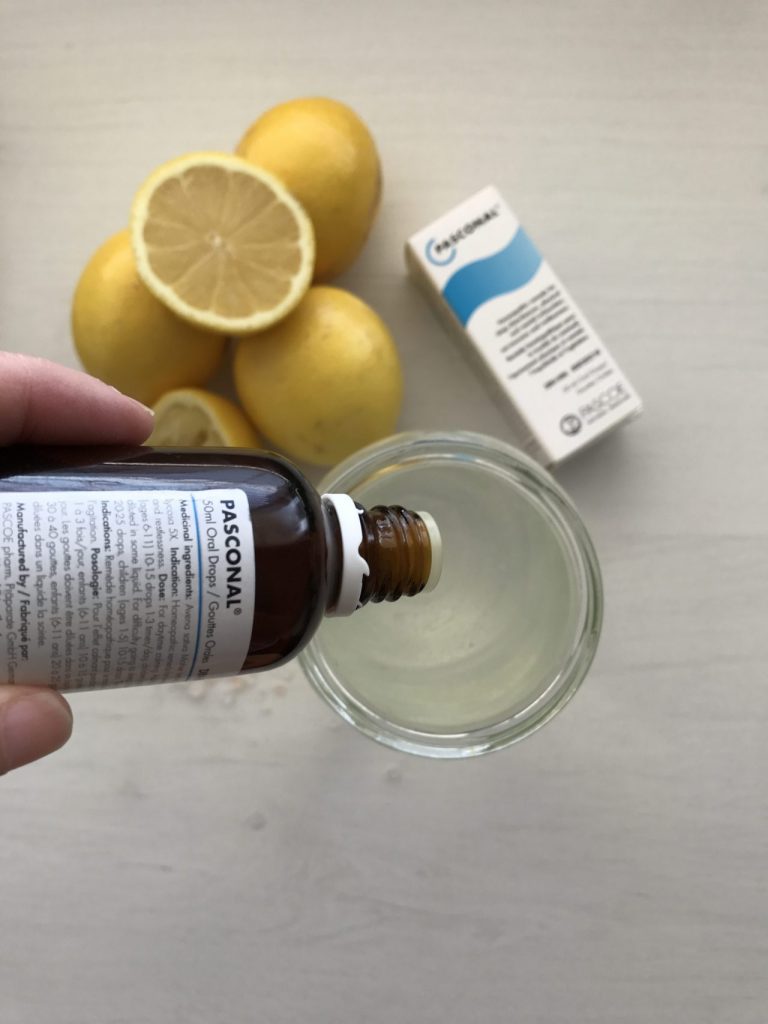 One of the key ingredients in PASCONAL® is Valerian, a well known herb known for its sedative qualities and its ability to relax the central nervous system and the soothe muscle groups. It has been used as a sleeping aid for hundreds of years especially when there is excitation or difficulty in falling to sleep due to nervousness. There are over 120 chemical components are found in valerian, making it a very complex herb. There has not been found to have any negative side effects with moderate use of valerian.
There are only three other ingredients found in PASCONAL® including Avena Sativa (which soothes the nervous system); Ingnatia (to aid in sleep disturbances);and, Lycosa (which supports balanced mood).
Here is the basic salt brine recipe that you can simply store in your fridge and add to your water. It is also the main ingredient in my Daily Morning Tonic (recipe below) that sets me up for the day.
BASIC SALT BRINE RECIPE
ingredients
7 tbsp of Himalayan salt or Celtic sea salt
1 mason jar filled with filtered water
directions
Add the salt to the mason jar and fill with the filtered water.
Let the mason jar sit in your fridge about 24 – 48 hours until salt has been fully dissolved.
Follow the directions below for the morning tonic or just simply add one teaspoon to a glass filled with water up to twice daily. You essentially want to work up to about a tablespoon.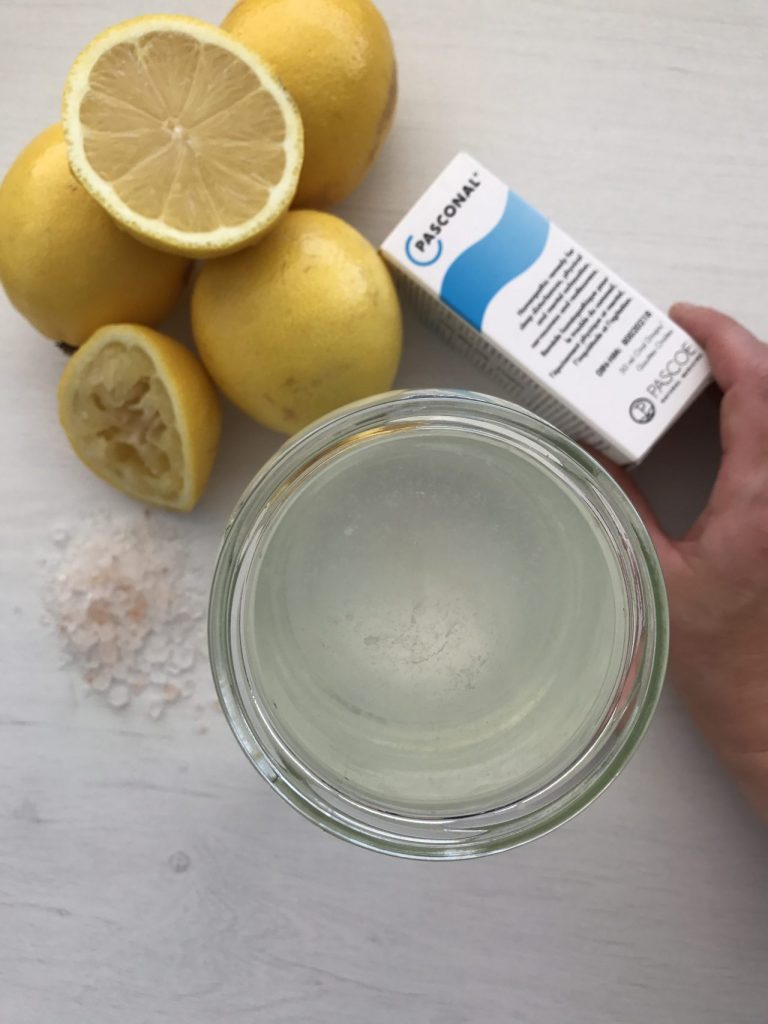 MORNING TONIC
ingredients
1/2 of lemon, juiced
1 T of salt brine
20-30 drops of PASCONAL®
2 cup of filtered water
directions
Squeeze the lemon juice into a large glass, add 1 T of salt brine, 20-30 drops of PASCONAL®, water and mix. Drink first thing in the morning and about 30 minutes before bed for the best impact. *note: you may want to reduce the water if drinking before bed!
A quick note about morning and evening routines:
Even though when I was on holiday, I was away from my day-to-day life, believe it or not my friends, I still incorporated my rituals to help keep me balanced in many ways – nutritionally, spiritually, and energetically. Although you may not be able to take your plethora of support items with you when you're travelling, it's important to try to remain as consistent as possible. Like I say, the body LOVES consistency. In fact, it craves it. For example, my husband literally eats an orange on the daily. When we were away earlier in the year, he wasn't consuming his daily orange. And guess what? As soon as he got back from that trip, he got sick!
That said, if you are facing mental exhaustion or restlessness during periods of stress, it's important to create some rituals to maintain a calming environment to start or end your day.  Using this morning (and evening) tonic daily with PASCONAL® is a consistent practice that you can enjoy first thing when you wake up in the peaceful quiet before anyone else wakes! Or, practice the same at night while you journal or to practice gratitude.
You can learn more about PASCONAL® HERE or by following their Instagram page HERE.
PS. I am going to do a video on my morning and nighttime rituals in a couple of weeks so be sure to subscribe to my newsletter to catch that!
Julie Pecarski Nutrition and its materials are not intended to treat, diagnose, cure or prevent any disease.All material on Julie Pecarski Nutrition is provided for educational purposes only. Always seek the advice of your physician or another qualified healthcare provider for any questions you have regarding a medical condition, and before undertaking any diet, exercise or other health related program.
Please note that this is a sponsored post.  I am being financially compensated for this post and I received a sample for review purposes. As I only promote products that I know, have personally tried, tested, reviewed, and loved, the opinions are completely my own based on my experience. I do not promote products that haven't provided value to me personally.