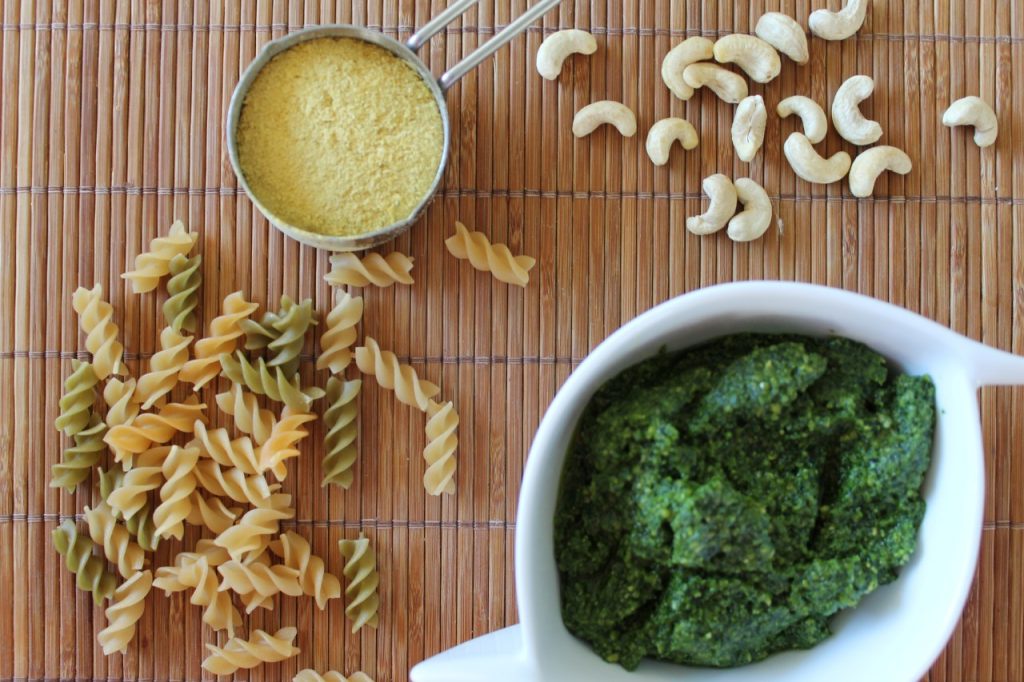 Oh my God is right! Actually, you'll be surprised to hear that I am not the biggest kale lover. Let's be real here. You gotta know how to pick them and how to use it. I'm sure we've all picked up a bunch of kale before and realized after cooking, it was tough, stringy and bitter.
There's hope, though. I've made some great things with kale in my kitchen. In fact, my Detox and Glow Smoothie can be make with kale. And, I quickly fell in love with these easy, peasy Cheesy Chipotle Kale Chips.
Here's the thing. Kale is an amazing source of fibre and calcium. And, any thing green is going to hit you with antioxidants, vitamins and minerals. So really, you would benefit from eating it!
So, I decided to switch up my dairy free pesto and make it with kale. Yup! And, it's amazing. Best.Decision.Ever.
This Dairy Free Kale Pesto is so amazing that I decided to do another video on my Youtube Channel so I could show you how to make it.  Take a look and if you don't have a couple of minutes to spare (I make sure my videos are under 5 minutes!), the recipe is found at the bottom of this post.
Kale Pesto
Ingredients:
6 leaves of organic kale
1 cup of raw cashews (or raw nut of choice)
4 cloves of garlic
1/4 cup of nutritional yeast
1/2 cup of avocado or olive oil
Salt to taste
Directions:
1) Wash and tear up the organic kale
2) Add all ingredients, except oil and salt, into the food processor.
3) Process until into pea-sized bits.
4) While processing, slowly add olive oil until smooth, adding more if needed.
5) Add salt to taste.
Toss in a salad, spread on a sandwich, use as a dip or enjoy traditionally, with pasta. Enjoy!
So, chat with me in the comment below – are you a kale lover, hater or do you have a love/hate relationship with it?