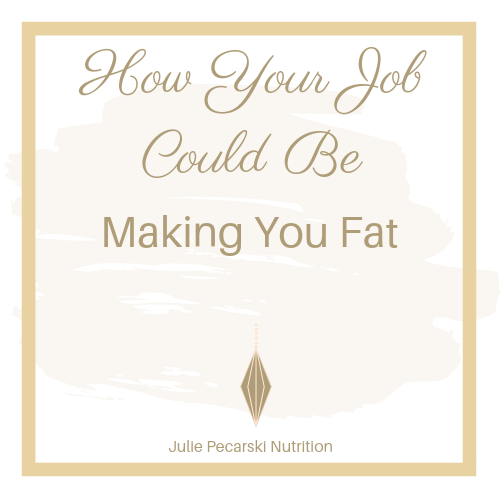 Many of you know that I suffered from burn out on multiple occasions. I mean, I was married to my job. I was brought up with two parents that were so committed to their work, often taking it home after a 10-12 hour day, that it translated into my career life too.
Think about it: you spend at least eight hours of your day at your job, plus an hour or two commuting. And if you're like many people climbing up the career ladder, you probably take your work home with you as well. Emails on your smartphone in bed, think about yesterday's meeting, or worrying about next week's deadline adds to that stress.
Would I be right in saying that stress can make it hard to eat healthy while at work, and then being sedentary in front of a computer all day long? You're probably too tired by the time you get home to cook a healthy meal or hit the gym, and there we have a recipe for work related health problems.
For me, personally, stress was a major contributing factor to my weight gain. And, if you find yourself going "uh-huh" to the description of the work life above, my guess that it may stress has contributed to your weight gain too.
You'll hear me talk about the stress hormone cortisol in my programs. One of the jobs of cortisol is to release energy into the body to help the fight or flight response. When you're in harm's way, you need more energy to fight or run away. But the problem is that nowadays, our bodies don't know the difference between survival threats  and just stressors of everyday life, including those at work.
Here is where stress-related weight gain happens:
If you were really facing a predator, the glucose that gets released into your blood and muscles to give you energy to run or fight would be used up to do just that. But, while you're at work, you're sitting there, eating poorly, with all that extra glucose accumulating, which eventually it turns into fat.
The issue that I personally faced was that I was constantly facing these cortisol-spiking stresses, where my adrenal glands began to dysregulate and I burned out. If I was working extra hours, cortisol was produced to meet the ongoing demand. Imagine it like a gas tank in a car. You keep going and going and going without any refuelling. You eventually run out of fuel to get to where you are going. The same is true for your adrenals. Once they are exhausted, they can't do their job and their cortisol output will drop.
Book a complimentary weight loss break-through call with me here.
Here are a few tips to help you with potential work-related weight gain:
REST! As an A-type person managing multiple things, I really had to learn to truly slow down when I needed to. In fact, inadequate sleep raises insulin levels increasing our cravings. I mean, when you're tired, do you crave a salad? Probs not!
QUALITY SLEEP. I've created a night time ritual where I don't use electronic devices at least two hours before bed. I use a sleep mask to keep it dark. You might even consider eating a light snack before bed to keep your blood sugar stable.
MANAGE STRESS. Walking, meditation, therapy, yoga are some examples but do what you will enjoy and sustain.
SAY NO. Create boundaries with your time. I personally limit social engagements in the work week and use the weekends to truly rest.
EAT FAT. Add avocado, olives, olive oil, and nuts and seeds to your diet to stabilize blood sugar.
AVOID SNACKING. Despite what one may think, snacking isn't the key to weight loss. Now, if you're totally ravenous and you skipped lunch, you'll love any of my fat bombs for this. Go HERE for the recipe page.
EXERCISE. Begin incorporating light exercise into your week and limit any high intensity work outs to 20 minutes. I personally do yoga 2-3 x's per week and try to fit in about 1-2 20 minute weight lifting sessions. The remaining days, I will walk.
Now, over to you: if you're a career-driven woman struggling to lose weight despite eating "by the book", you need some support. Book a complimentary weight loss break-through call with me here. We'll determine what your diet and lifestyle roadblocks have been and I'll show you some ways to turn you into a fat-burning machine to create the body that you desire (and deserve!).