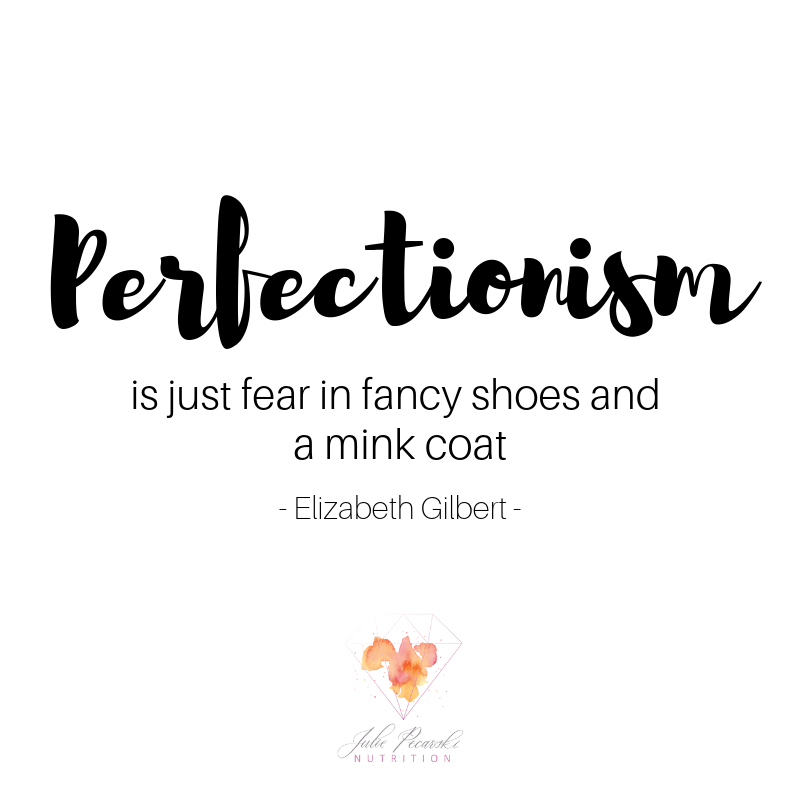 I'm healing from the condition of being a Perfectionist. When I was in the depths of it, I thought it was a badge of honour to wear. I realize now that it is a problem that I have come to understand as having had a real impact on my life, especially my physical and mental health. In fact, it's the #1 reason why I burned out, twice, with the last time being incredibly hard to rebound from. I was exhausted where I struggled to get up in the morning literally trying to push through life. I was inflamed where I felt bloated and puffy. And, I was slowly starting to gain weight, especially in my mid-section. No matter how much yoga and working out I did, the weight never went away.
Even in my nutrition practice, I see women in every round of my 12 week weight loss program who suffer from weight gain, inflammation, and exhaustion, not knowing that perfectionism is one of the contributing factors.
Don't get me wrong, working through your issues of perfectionism doesn't mean that you'll need to say goodby to your ambition and drive. The key is to find a way of living with a little more ease and maybe some imperfect action trusting that it will work out.
Perfectionism is the never-ending uneasy feeling that you always have to do better, and do more, be better, and be more, and be everything to yourself and everyone, and feeling chronic internal unrest. It keeps us away from optimal success because the anxiety of making it "perfect" keeps us from our truest, and most creative self. Instead, we play it safe so we get that approval we're looking for which, quite frankly, we'll never be able to feel satisfied from getting. And here's the kicker: usually perfectionism is a manner to seek approval of others. Yet, we're also never going to get it because we'll never be satisfied with what comes to us.
Here are some indicators that you may be a perfectionist:
You're frequently or chronically stressed out or overwhelmed because of a to-do list.
You pretty much always feel that you could or should be doing more.
You frequently compare yourself to others.
You generally feel that you haven't accomplished enough in your life and should be further along at something.
You have black and white thinking – you're either successful or you're a failure, and your happiness and inner peace go up and down based on external validation and successes.
You often experience frustration at yourself for not meeting your own standards.
You worry a lot, and may struggle with anxiety.
You generally feel you could have "done it better."
You hold yourself back from something you dream of doing because you're afraid to fail.
You're continually striving for self-improvement physically, emotionally, spiritually, professionally, and/or financially.
You communicate with others based on your accomplishments where you feel you have to present yourself to others as perfect.
You have unrealistic expectations of others and get irritable, critical, or easily frustrated when others aren't living up to your standards or expectations.
Now, how did this lead to my weight gain and exhaustion?
In any chronic state of perfectionism, you're body goes into survival mode. The body senses danger and initiates the release of adrenaline and cortisol by your adrenal glands. But, too much of this stress can lead to imbalances in our cortisol production, and it can ultimately lead to anxiety, overwhelm, and fatigue from taking on too much and not sleeping enough, burnout, digestive problems, blood sugar and insulin problems, hormonal imbalances, depression, and immune system problems, including autoimmune diseases.
Most of the symptoms listed above is what I faced for two years with weight gain and exhaustion being the hardest to shake off.
So what do you do if you know that striving for perfection may be one of the reasons why you're inflamed, gaining weight/not losing weight and where you're exhausted on the daily?
Recognizing it. If you're aware that you're a perfectionist, then you're more equipped to change your ways. You need to also be aware of, for example, when you're comparing yourself to someone else and learning to stop it. Instead, maybe you say something internally that is nice about the person.
Praise yourself. When you feel perfectionism rearing its head, make a list of all the things you've accomplished already.
Find time for you. Just you. No work, no phone, no nothing. For me, this is yoga. For you, it could be a manicure, a solo lunch date, a walk. Do it!
Gratitude. My favourite quote is "gratitude turns what we have into enough". When you start listing all the things that you're grateful for, you'll start to see a shift happen. It's a daily practice and I recommend doing it before you sleep by listing 3 things, big or small.
Listen up! In just a few short weeks, I'll be opening up the cart to my 12 Week Smarter Weight Loss Program which is a fat loss system that also helps to boost energy for career-driven women (especially those perfectionists!). So, if you read this post and things like "that's me" that came up, then you'll want to get on my wait list OR reach out to me to schedule a quick 30 minute weight loss discovery call to determine if this program is the right fit for you.