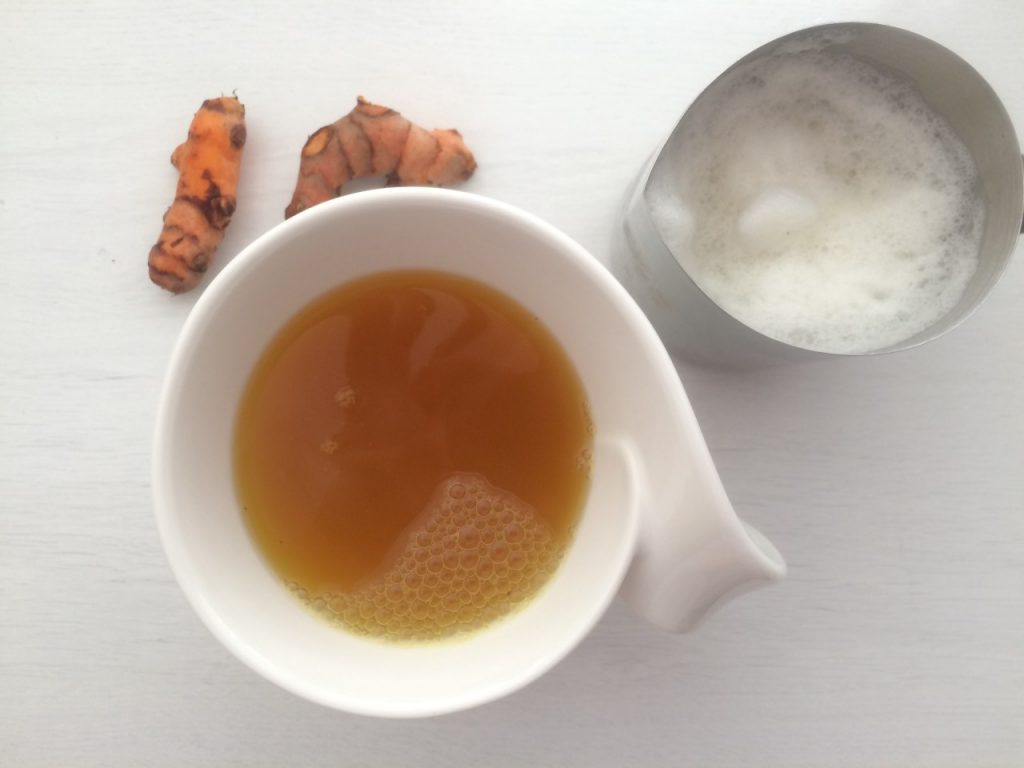 The weather in Vancouver has been crazy gloomy. It has literally (at this point anyways) rained for over 30 days.  No sunlight for 30 days!  So, I've been making sure that I'm getting my daily vitamin D and omega fatty acids to make sure that my immune system is still strong despite this shitty weather.
That's why this tea is a great winter time immune boosting drink.  Both ginger and turmeric are anti-inflammatory aids making them perfect if you're suffering from an illness of any kind. Inflammation is the body's response to something going on in your body. A countless studies show that turmeric has powerful anti-inflammatory, anti-tumor, and antioxidant properties.
So, in addition to my supplements, I brew a big 'ol pot of this Turmeric Tea Latte to help support my immune system. Inflammation in the body doesn't help you recover either.  Turmeric is such an amazing powerhouse to minimize inflammation in the body.
ingredients
2 cups of pure, filtered water
1 tsp of dry organic turmeric powder or 1 peeled and sliced turmeric (you could grate too)
1 tsp of dry organic ginger powder or 4-5 thin slices of fresh ginger
A pinch of black pepper (helps for the absorption of turmeric)
Sweetener to taste
1/2 cup of steamed or warmed almond milk
optional: ghee or coconut oil
directions
Add all ingredients to a small pot and heat on low-medium heat. Do not boil but rather, warm it to a slow simmer for 10-12 minutes. The longer, the better.
Pour through a strainer and top with steamed almond milk and if you are adding the optional ingredients, blend in a blender for the oils to be incorporated.