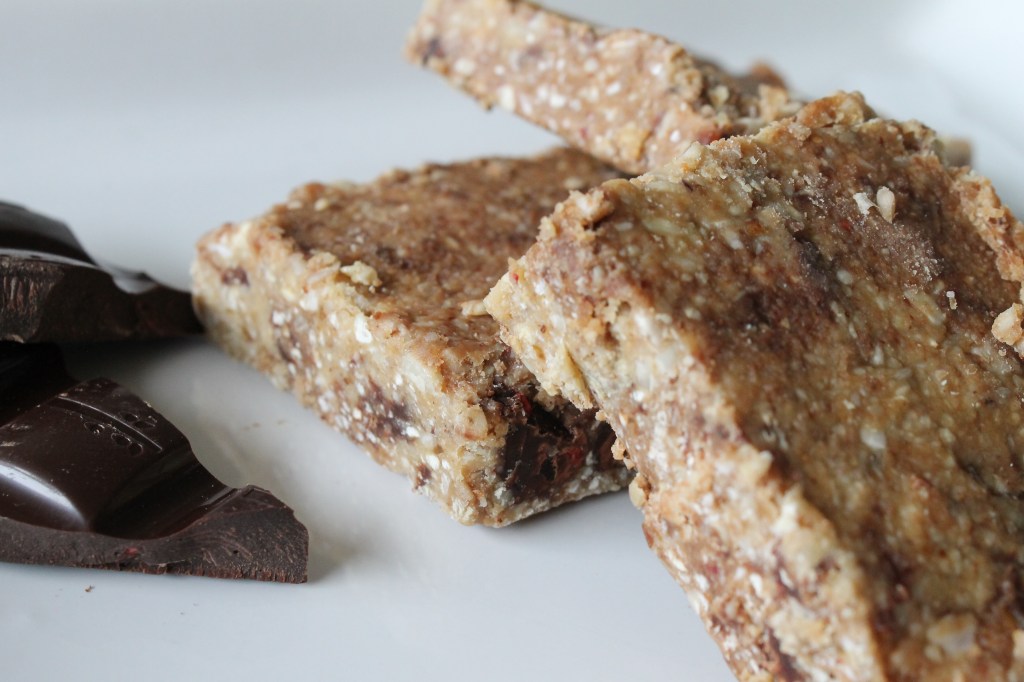 I think I may have concocted the best granola bars ever!  I know, that's a big statement but these Chocolate Peanut Butter Granola Bars – high protein, grain free, no bake! really are great.  My husband just loves his peanut butter.  I've tried to switch him over to almond butter for a change but he won't have it.  These are made with peanut butter but feel free to switch it over to another nut butter or seed butter if you are not into peanuts.
There is virtually very little sugar in this recipe.  I've used dates which are a great sugar substitution as they are loaded with fibre which helps to stabilize blood sugar making a great choice for those watching their sugar levels.  I also like that dates give a caramel flavour and texture to desserts and bars.  Test the recipe before storing in the fridge/freezer if you would like to add more.
What I love most about these bars is that they are so easy to make in a few quick steps, pop them in the freezer or fridge and away you go!
Ingredients
1 teaspoon vanilla
½ cup natural unsweetened nut butter (I used peanut such as Adam's brand)
3 tablespoons coconut oil
1.5 cups of nuts/seeds (I used raw walnuts, pecans, cashews, sunflower seeds)
6 dates
½ cup shredded and unsweetened coconut
¼ cup non-dairy chocolate chips (optional)
Instructions
Combine the vanilla, peanut butter, and coconut oil in a saucepan over low heat.
While the mixture is heating, place all of the nuts/seeds and dates in a food processor and chop until the mixture resembles small pebbles.
Add the coconut and pulse a few times until the sunflower seeds are roughly chopped.
Pour the coconut oil mixture into the nut/seed mixture and pulse 5-6 times until incorporated. (If adding chocolate, let cool for 10 minutes and incorporate into mixture)
Line an 8×8 baking pan with parchment paper, then pour the granola bar mixture into the pan.
Use your hands to press the mixture into the pan evenly, making sure to pack as tightly as possible.
Place in the freezer to set for 1 hour.
Lift the parchment paper out of the pan and place on a cutting board. Use a sharp knife to cut the bars into squares.
Store ideally in freezer as they will last longer. But, if you're like our home, this platter only lasts a week!