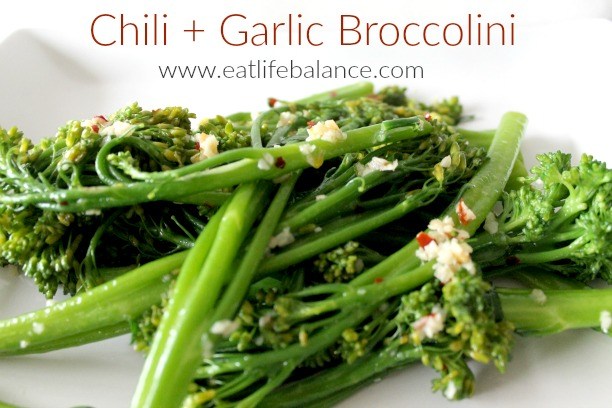 How was your Halloween weekend?  Did you dress up for your trick or treaters or head out to a halloween party? Halloween isn't my thing but I managed to dress up for work, as a lady bug (in case you were wondering).  It was surprisingly fun.
I did spend a relaxing weekend just catching up on emails, recipes, podcasts, going to yoga (of course) and just simply relaxing.  James was off to Calgary for a few days and we're meeting up to fly out to California for the rest of the week.  I can't wait!!!!  Now, onto this week's recipe….
Aye Caliente!  These Chili + Garlic Broccolini are a perfect side dish for ANYTHING! (PS. You can use virtually any vegetable, like brocolli or green beans as examples)
I always amp up the garlic in the fall and winter. Garlic is a potent antibacterial, antiviral and anti-fungal agent making it an awesome herb to boost your immune system.
I was raised on garlic.  Being Polish and living in the country, we would grow our own garlic and put that shit on and in everything!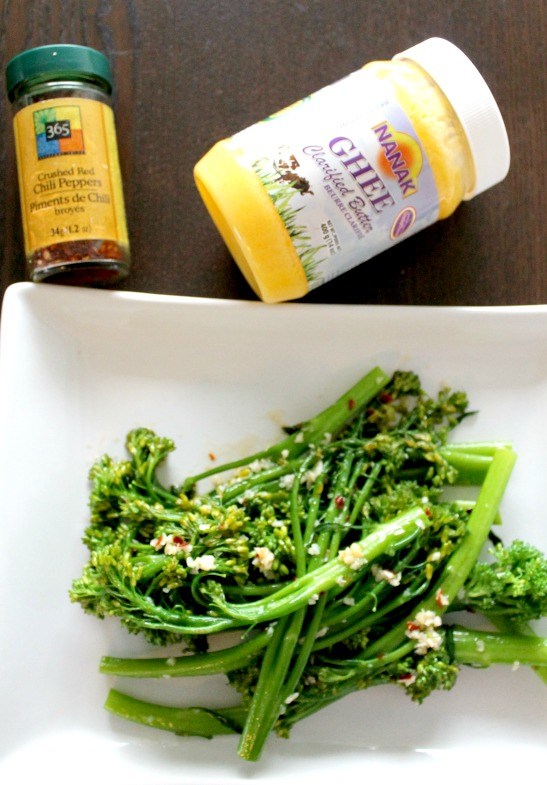 So, in this recipe I used a secret ingredient called Ghee.  Have you cooked with ghee before?  Ghee is clarified butter with the milk solids removed making it a dairy-free, neutral flavour fat that is awesome for cooking.
The other key process is to make a garlic paste.  Since this broccolini is cooked on a moderate to high temperature, the paste is essential to ensure that the garlic doesn't burn as it has less surface area to burn (or something to that effect!).
Take the garlic cloves and chop until minced.  Add a teaspoon of sea salt and start sliding the flat side of your knife across the garlic.  Mince periodically but continue to mash and slide the flat side of your knife against the garlic.  After about 3-5 minutes, the garlic should be a paste.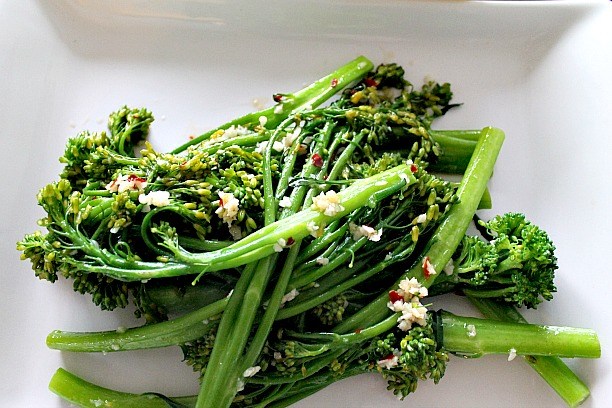 ingredients
– 1 bunch of organic broccolini or regular broccoli, green beans, brussel sprouts, etc.
– 3-4 cloves (made into a paste / see above)
– 1 tsp of chili flakes (or more)
– 2 tbsp of ghee, avocado oil, or coconut oil
– Sea salt to taste
directions
1) Blanch the broccolini for two minutes in salted, boiling water.
2) Let cool in an ice bath to stop the cooking process. After two minutes, take out of water to drain and dry with a towel.
3) Heat a stainless pan at medium temperature.
4) Add the ghee to melt.
5) Once melted, add the broccolini (watch out as the oil may splatter with any excess water).
6) Toss for about one minute, add the garlic and chili.
7) Continue to toss for 2 minutes, season with salt.
Serve and enjoy!