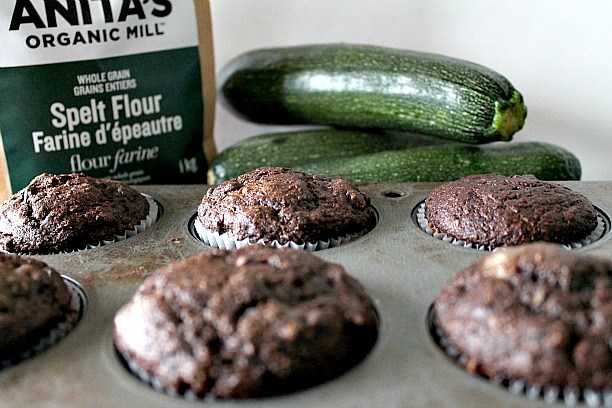 Holy crap these muffins are sooo good!
Don't like zucchini?  I promise you that you won't even notice that they are in the muffin.  I swear, I promise!
Sometimes, with super healthy muffins, they can be dry or heavy but not these babies.  These muffins are moist, not too sweet and full of healthy goodness – zucchini! The zucchini is what makes these muffins so moist.  Just be sure that you squeeze as much water out of them so that they cook properly.
So, you know that I always have my husband in mind when I am cooking.  He's a finicky eater.  He's all meat and potatoes but over the years, he's made great strides trying to make better choices with food.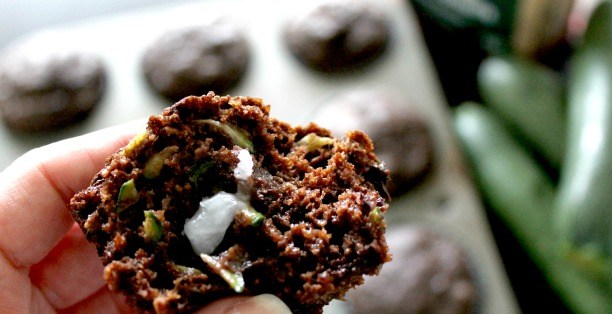 I remember, a few years back when he went back to university, there was the coffee shop that he used to stop by and study at.  He would always pick up their chocolate zucchini muffin and would rave about it.  I doubt that it was all that healthy so I decided this one's for him!
I've chosen to use whole grain spelt which is an unrefined form of wheat that is less in gluten and easier to digest.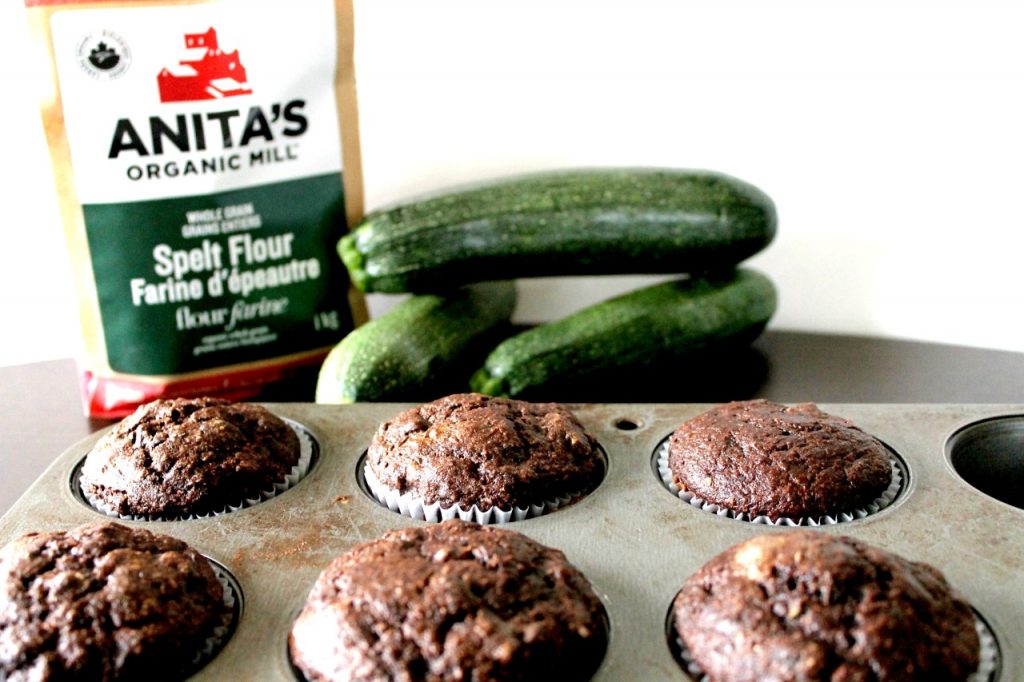 Here's the recipe for the Double Chocolate Zucchini Muffins!
(Makes about 9-12 muffins depending on the size of muffin tin you use.)
Ingredients
1 ¼ cup spelt flour
1/3 cup raw cacao powder or unsweetened cocoa powder
1 teaspoon baking soda
Pinch of salt salt
1/4 cup of melted coconut oil
1/3 cup maple syrup or honey
1 teaspoon vanilla
2 eggs
1 cup finely grated zucchini (about 1 medium)
½ cup Almond Milk
½ cup dark chocolate chips
Directions
– Pre-heat oven to 350 degrees F. Line 12 cup muffin tin with cupcake liners and generously spray inside of liners with nonstick cooking spray.
– Squeeze shredded zucchini of excess water.
– In a medium bowl, whisk together flour, cocoa powder, baking soda, zucchini and salt; set aside.
– In a bowl, whisk oil, sweetener of choice, vanilla, eggs, apple sauce and almond milk and mix until well combined.
– Add in dry ingredients and mix until just combined.
– Fold in chocolate chips.
– Divide batter into prepared liners.
– Bake 18-20 minutes or until toothpick inserted into middle comes out clean.
– Let cool for a few minutes. Enjoy!