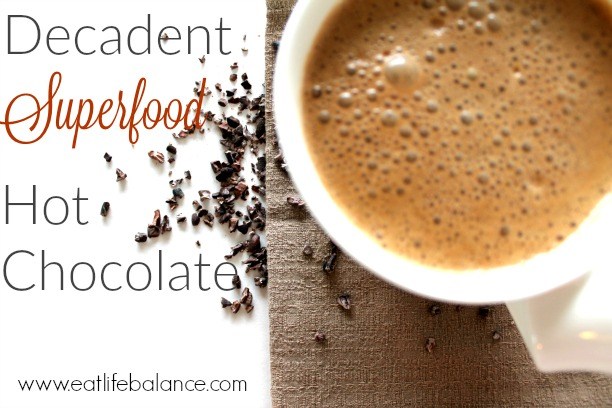 I love coffee.  I really, REALLY do.  Now, I'm not a 2-3 cup a day coffee drinker but I have one cup of joe a day. And, if you live in West Vancouver like I do, you'll find me on the weekends at a local coffee shop with my honey, sipping away working on this website.
Hey, I even did a video on EatLifeBalanceTV with my ASK JULIE: Is Coffee Good or Bad For Me?
On the weekends in particular, it's a ritual thing for me to wake up early, play a podcast in the background, work on posts and recipe ideas for you all, all the while sipping an espresso or a bullet-proof coffee.  I would hate to throw that away.
Ahhhh, but caffeine is a real bastard if you've got hormonal imbalances, anxiety/depression and you live a high-stress lifestyle.
I recently did a video on 4 Ways to Balance Hormones Naturally and one of the key steps to helping you manage these symptoms is to take good care of your liver.  Through poor dietary and lifestyle choices, our liver often gets clogged up and is not able to process hormones and remove unnecessary/bad hormones.
Remember – the liver is a filter for our body so if it's clogged, it can't do it's job. We're then left with the risk of obesity, hormonal imbalances, anxiety/depression, cardiovascular disease, chronic fatigue, headaches, digestive problems, allergies and many other ailments.
The key is to limit or omit certain things such as alcohol, sugar and caffeine from your diet.  Stress is also a culprit which brings me to one of my favourite supplements: Red Reishi Mushroom and other adaptogen mushrooms.
Traditionally, red reishi was prized as the "herb of longevity" – used to promote calmness, improve meditative practices, and attain a healthy life. But, in the past few years, adaptogenic mushrooms in general have been gaining popularity as it helps to increase energy, reduce stress, regulate the immune system and supports liver health. It also has anti-aging properties, if you're into that!
I should also let you know that if you have someone in your life suffering or recovering from cancer or simply trying to build immunity, I would invest in the Mikei Red Reishi Essence supplement.  I know many have used this particular brand as part of their protocol.
Now, onto the Decadent Superfood Hot Chocolate: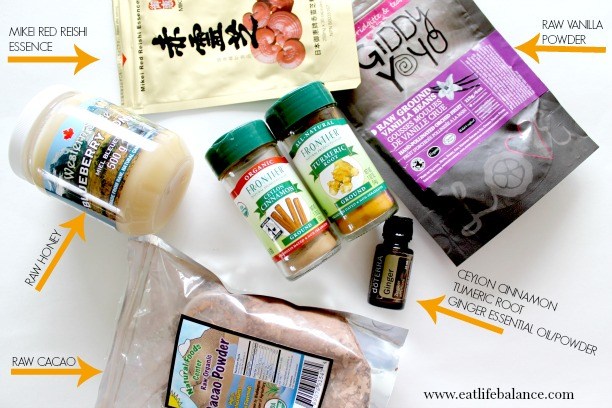 So, this is a superfood hot chocolate because it is loaded with all my favourite SUPERFOODS y'all.
Mikei Red Reishi Mushroom
Raw, local honey – immune booster
Turmeric – countless powerful medicinal properties
Cinnamon – stabilized blood sugar + it tastes good
Ginger – anti-inflammtory properties
Maca – for energy & sex drive booster
Raw Cacao – antioxidant rich
Coconut Oil – antibacterial/antifungal plus loaded with great fats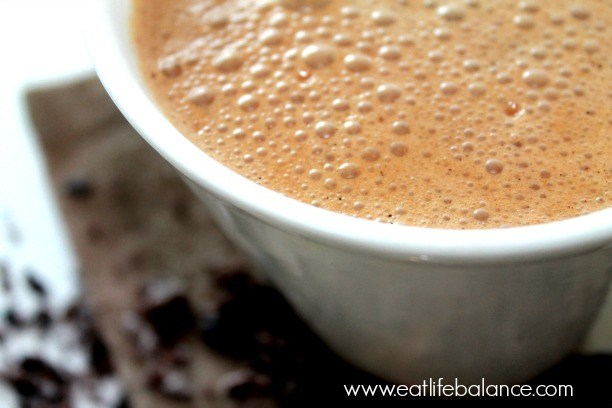 ingredients
1 cup of full fat coconut milk or any non-dairy milk
1 tsp of Giddy yoyo vanilla bean powder or extract
1 tsp of maca powder (optional)
1/2 tsp of turmeric, cinnamon and ginger powder (I used Ginger essential oil)
1 T of raw cacao
1 tsp of Mikei Red Reishi Essence (about 1 capsule) or any adaptogenic mushroom such as Chaga
1 T of coconut oil (optional)
3 drops of stevia or a tsp of raw, local honey
Pinch of sea salt
directions
1) On a stove top, heat up milk, sea salt and stevia on medium-low heat for about 5 minutes or until steaming (not boiling).
2) Add remaining ingredients, gently whisk until everything is mixed. For better results, pour into a blender for 30 seconds.
3) Pour and serve.