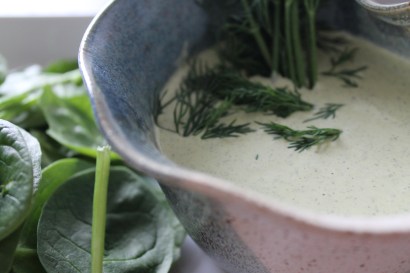 Oh those creamy, bottled, grocery store dressings. You make eating salads much more enjoyable but you're full of artificial flavours, unhealthy oils and your not good for my heart or my gut.
Lucky for me I made an adaption of a ranch dressing with hemp seeds. My love for hemp seeds has increased ten-fold for a number of reasons:
Hemp is high in protein, fibre and omega-3 and 6.  It is plant based product so it is heart healthy and it so versatile – I add hemp to smoothies, make raw energy bars and cookies with them and in this case, I made a dairy-free ranch dressing that is so heart healthy, you won't feel guilty double dipping your carrot sticks in them!
As I already suggested, you can use this dressing as a dip.  But, consider adding it to mashed potatoes, on top of roasted vegetables or toss into a salad.  Perfectly suitable for kids and meat and potato-type husbands, like mine!
Ingredients
½ cup Hemp Seeds (Try North Coast Naturals)
½ cup filtered water
1.5 T Nutritional Yeast
1 Garlic clove
1 t onion powder
1 T fresh dill
⅓ t of sea salt
Directions
Put all ingredients in a blender and blend at high speed.
Place into a jar to refrigerate until ready to serve.